I need to pop out for some groceries. I can't see a thing, but I'm used to it – I just grab my white cane from the corner of the hall, and off I go!

The wind is tugging at my empty red Marimekko bag and is sending the last of the dried up maple leaves scuttling along the pavement. The street is quiet. It's almost seven in the evening. I know it's dark – but I can manage equally well in broad daylight and in the dark.

In the daytime, the noise of the road works is louder than the cars, and it's dangerous for me to cross the street alone. However, the working day is done, and the machines have fallen silent. The ten-minute walk to the grocery store goes by swiftly. I take a turn at a corner, and my grocery store is only 70 steps away. I don't need to count – sooner or later my cane will hit an advertisement stand on the street. For me, the stand is the store sign. I've reached my destination. We – the visually impaired – oppose advertising street stands, but there are significant personal exceptions to every rule!

After arriving at the store, I stop close to the entrance. Unlike other customers, I don't navigate the aisles. Instead, the "most excellent service" starts here. First the cashier notices me, and passes the message on to another staff member. Soon someone will come and help me – today it's Hanna, who greets me cheerfully and asks whether I want a trolley. "Yes, please. You can put my bag in it." She pulls the trolley, and I follow, with my hands on the bar. I've memorised my shopping list. Hanna informs me about any special offers and mentions the "best before" dates on the products I choose. I prefer Finnish products, but this is not a strict principle. For fresh foods, I want to know the country of origin. She also tells me about new products. I often buy something new, something that I've not tried before. I'd love to have themed weeks in my grocery store for French products, for example, or Swiss chocolate.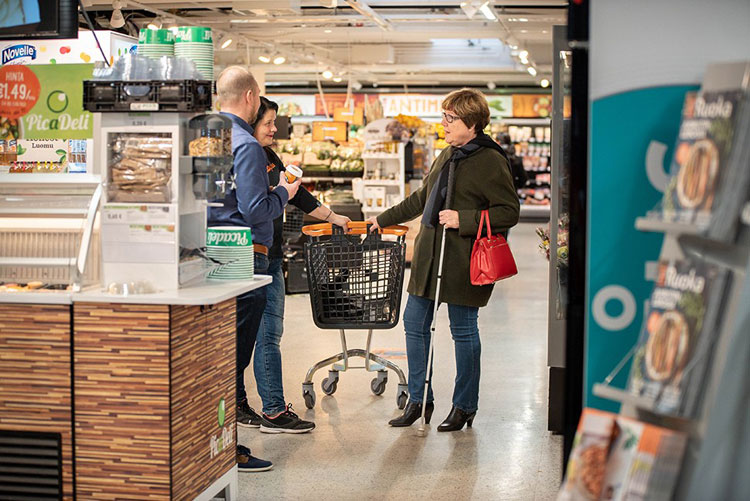 At the cash desk, we place the items onto the conveyor belt, and Hanna starts packing my purchases while I pay. I use my loyal customer's Plussa benefits, and use contactless payment if the total is within the limit. Here I can also collect any parcels that I have received. Hanna has already packed my groceries; my red Marimekko bag is chock-full of items. I thank her at the front door. "See you soon!" she says. "See you!" I respond.

Every time I leave the store grateful and in a good mood. It would be impossible for me to go shopping on my own in a modern grocery store that is quite large. People ask me why I don't just shop online and have my groceries delivered to my door. I don't want to. I want to go to the grocery store when it best suits me, without making an appointment with an assistant. I want to be just another person on the street. It's beyond wonderful that my grocery store offers assistance for visually impaired customers and that the staff have been provided with training and act very professionally. I've heard that some other stores also provide a similar service, which is great!

I have to walk up a steep hill back home, and I realise it was not a good idea to buy so much stuff. My bag is too heavy for this! Nevertheless, I love my neighbourhood, the Kallio district of Helsinki. It's a wonderful and easy place to live for a visually impaired person because of its varied elevations. I lived here as a student, when I could still see. Work took me elsewhere, but I came back after I had lost my vision. Visual memories from back then help me a great deal. Someone calls my name. It's Taina from my building – she is walking her dog, Bella. We exchange a few words. Suddenly it starts to rain. A passer-by picks up their pace and begins to run. I listen to their rapid steps fade away, and I think to myself that to be able to run you need to be able to see. I continue at my own pace.

Eija-Liisa Markkula
Chair of Cultural Service for the Visually Impaired and a customer of K-Market Kallio
K-Market Kallio in Helsinki has paid special attention to the needs of its visually impaired customers for years.