As established in 2015 and confirmed in 2021, Kesko's strategy aims for profitable growth through strong focus and transformation. The rapid changes in the trading sector present us with great opportunities.
Grocery trade, building and technical trade, and car trade are all areas in which we have good market positions, the strongest capabilities, and the best potential for long-term development. We use quality and customer experience to differentiate ourselves from the competition in both our stores and digital services.
Digitalisation and customer experience are two complementary central themes in Kesko's strategy. Kesko's key objectives in utilising digitalisation are to enable the best possible customer experience, and to increase the efficiency of our operations and consequently improve cost efficiency. Data is central to everything we do, and we aim to extensively create value for our customers with business processes that utilise data, analytics, AI and automation.
K-Plussa is the most extensive and versatile customer loyalty programme in Finland. The number of Finnish households belonging to the K-Plussa loyalty scheme and using the Plussa network totalled 2.4 million at the end of 2021, with 3.3 million active customers.
Operating as 'One unified K' is an important part of our strategy. K Group – which comprises Kesko and independent retailer entrepreneurs in Finland – operates in eight countries. The K-retailer entrepreneurs lend Kesko a significant competitive advantage, and we employ the retailer business model whenever it does so. We want to maintain and strengthen our reliable K brand, and to provide even better service to our customers. In addition to a common strategy, 'One unified K' means seamless cooperation with retailers and across Kesko's divisions to achieve synergies.
Sustainability is at the heart of Kesko's strategy. Our objective is to enable sustainable choices for our customers and drive change throughout our value chain from production to consumption.
The new sustainability strategy, approved in March 2022, sets clear sustainability targets for the operations of Kesko and its three divisions. The focus areas of the sustainability strategy are climate and nature, value chain sustainability, responsibility for people, and good governance.
We are committed to the Paris Climate Agreement objectives of mitigating climate change. We aim to reach carbon neutrality by 2025 and to cut emissions from our own operations and transports to zero by 2030.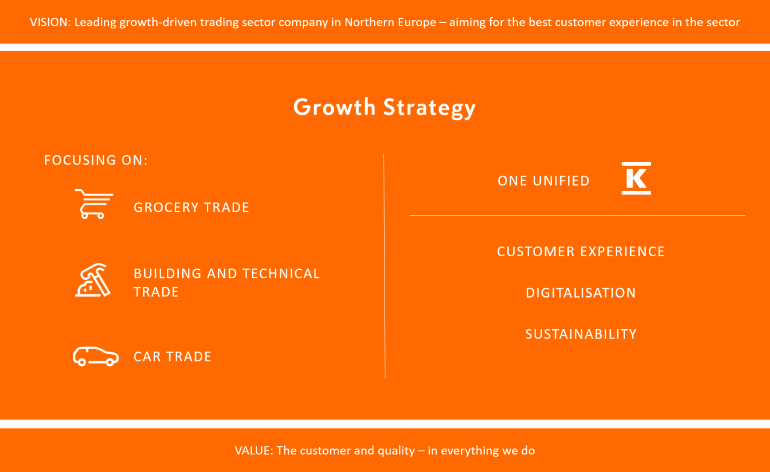 Read more:
Strategy review in Kesko's Direction section of the 2020 Annual Report