Result in building and technical trade to a new level in 2020
K Group's building and technical trade division is the leading operator in Northern Europe. Despite the exceptional circumstances, we continued the execution of our country-specific strategies in 2020, and the division's profitability rose to a new level. The Covid-19 pandemic and related restrictions impacted our operations across Northern Europe. With people working from and spending more time at home and spending money domestically, consumer demand grew, especially in Finland, Sweden and Norway. Sales stayed at a good level also in B2B trade, as most construction sites remained open as usual.
The key to our strategy execution is to acknowledge the differing needs of our three customer segments – technical professionals, professional builders, and consumers – in all channels. B2B operations account for nearly 70% of our net sales. Less than half of our profit improvement was attributable to the construction and renovation boom caused by the pandemic. We have also sought synergies within and between the operating countries in areas such as concept, digital service and own brand development. In 2020, we continued targeted acquisitions in line with our strategy in Norway and Sweden, as well as the integration of previously acquired businesses.

Business environment
Market consolidation
Outsourcing of construction to professionals
Growth in renovation building
Non-traditional players entering the market
Digital becoming increasingly important for the customer journey
STRATEGIC OBJECTIVE

WHAT WE ARE DOING

Country focus, with country-specific strategic actions
Serving three different customer segments according to their specific customer needs
Seeking synergies
Organic growth and profitability improvement
Targeted acquisitions

Technical trade customers
> Building, infrastructure, resellers, industry

1,500 technical sales professionals
Distribution centres deliver almost 40,000 order lines a day, some 50% via an automated process
Customer-tailored logistic services
Comprehensive store network of 131 Onninen Express stores
Multiple digital channels with combined sales of €400 million

DIY and professional builders
> B2C and B2B

A comprehensive network of 331 stores in prime locations with near-by deliveries
Over 160 million customer visits annually on our online sites
Strong multichannel customer experience with growing online sales
Strong B2B sales – 185,000 professional builder customers
Differentiating own brands, with sales of around €200 million
Building and technical trade net sales, operating profit and operating margin, rolling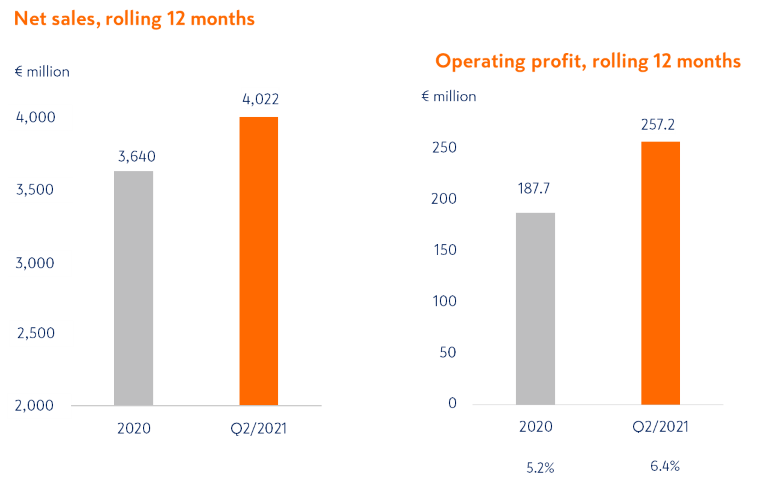 The building and technical trade strategy review can be read in Kesko's 2020 Annual Report.
Information on the impacts of the Covid 19 pandemic on Kesko's businesses can be found under the Operating environment section.
K Group's building and technical trade
Number of stores

Retail and B2B sales,
VAT 0%,
€ million

2020
2020
Change, %
K-Rauta, Finland
130
1,172.3
9.0
Rautakesko B2B Service
-
249.1
-2.5
Onninen, Finland
57
961.4
8.2
Leisure trade, Finland
103
264.2
-5.9
Finland, total
290
2,647.1
5.9
K-Rauta, Sweden
17
186.3
14.1
K-Bygg, Sweden
36
240.9
10.8
Onninen and MIAB, Sweden
3
108.3
-0.8
Byggmakker and Carlsen Fritzoe, Norway
86
717.2
1.0
Onninen, Norway
18
243.6
-3.9
Onninen, Baltic countries
17
79.9
-5.7
Onninen, Poland
36
235.1
-1.3
Other countries, total
213
1,811.4
2.0
Building and technical trade exl. Kesko Senukai, total
503
4,458.4
4.3
Kesko Senukai
59
922.4
6.9
Building and technical trade incl. Kesko Senukai, total
562
5,380.8
4.7

In addition, building and technical trade stores offer e-commerce services to their customers.
Two Onninen stores in Finland operate on the same store premises with K-Rauta.

Key figures
2020
2019
Net sales, € million
3,639.5
3,472.8
Building and technical trade excl. speciality goods trade and Kesko Senukai
3,424.3
3,1261
Speciality goods trade
215.2
346.7
Operating profit, comparable, € million
187.7
115.9
Building and technical trade excl. speciality goods trade and Kesko Senukai
169.4
98.5
Speciality goods trade
7.4
9.5
Kesko Senukai
11.0
7.8
Operating margin, comparable, %
5.2
3.3
Building and technical trade excl. speciality goods trade and Kesko Senukai
4.9
3.2
Speciality goods trade
3.4
2.7
Return on capital employed, comparable, %, rolling 12 months
11.2
7.4
Capital expenditure, € million
186.3
332.7
Personnel, average
9,308
12,630
The change in Kesko Senukai's consolidation method from a subsidiary to a joint venture as of 1 July 2020 has impacted the performance indicators for the building and technical trade in the segment information. In the segment information for the building and technical trade, performance indicators are illustrative except for the balance sheet indicators and personnel numbers.
Properties
2020
2019
Owned properties, capital, € million
159
222
Owned properties, area, 1,000 m²
230
235
Leased properties, area, 1,000 m²
865
1,253