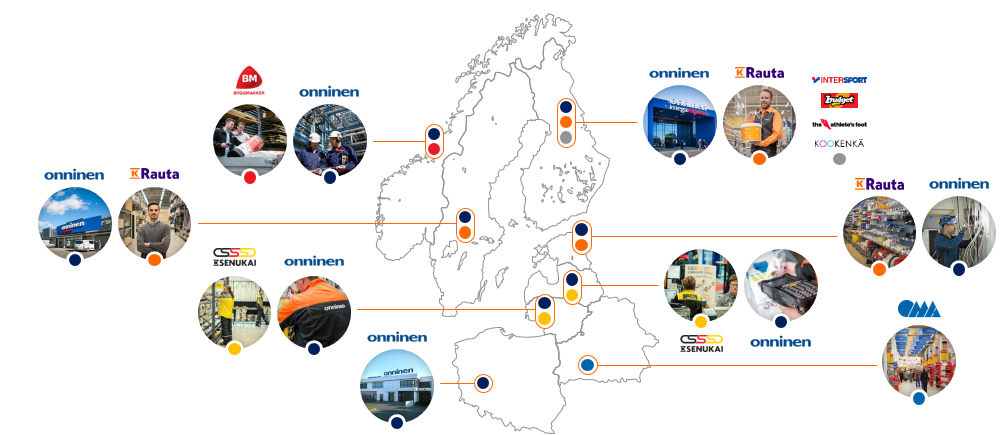 ONNINEN
Onninen serves technical wholesale business customers and is the market leader in its field in Finland. Onninen offers an extensive selection of products and service packages to contractors, industry, infrastructure building and retail dealers. Through the network of Onninen Express stores, efficient logistic integrated services and multichannel shopping experience, Onninen is the reliable companion of a professional.
There are around 150 Onninen Express stores and Onninen points of sale in Finland, Sweden, Norway, Estonia, Latvia, Lithuania and Poland. In addition, Onninen provides comprehensive services to professionals through electronic channels.
K-RAUTA
K-Rauta is the market leader in the building and home improvement trade, and according to surveys the most trusted building and home improvement store chain in Finland. The chain serves both professional builders and consumers. K-Rauta has the most extensive store network in Finland and a versatile online store. K-Rauta offers products and services for building, renovation, yard and garden, interior decoration and home furnishing.
K-Rauta's experts want to make building, renovation and shopping at building and home improvement stores surprisingly easy, leaving professional builders with more time for efficient work. In Finland, all K-Rauta stores are run by retailer entrepreneurs. K-Rauta has 135 stores in Finland and 17 stores in Sweden.
BYGGMAKKER
Byggmakker is one of the leading operators in the building and home improvement trade in Norway. Byggmakker has a network of 65 stores. Byggmakker has strong B2B expertise both locally and globally. Approximately half of the stores are owned by Kesko and another half operate under the retailer business model.
K-SENUKAI
Kesko Corporation's joint venture Kesko Senukai is the leading building and home improvement operator in the Baltics and one of the leading online store operators in Estonia, Latvia and Lithuania. K-Senukai's stores offer a wide selection of products related to building and living to customers in the Baltics. There are a total of 39 stores in the K-Senukai network of stores in Latvia and Lithuania, eight stores in Estonia, and an online store.
OMA
OMA is the largest building and home improvement store chain in Belarus serving both professional builders and consumers. The OMA chain offers a wide selection of products related to building and living. The chain has 17 stores in Belarus.
KONEKESKO
Kesko Corporation announced on 6.7.2018 that it will sell its remaining stake in its Baltic machinery trade subsidiaries and Konekesko Finland's agricultural machinery trade operations. The completion of the transactions is waiting for the approval of competition authorities.

LEISURE TRADE CHAINS
INTERSPORT
Intersport is Finland's market leader in the sports trade and, as surveys show, the most trusted sports store in Finland. The Intersport chain comprises 54 stores and an extensive online store. The chain's success is based on extensive selections of sports and leisure products, good service, high-quality products, diverse maintenance services and on providing an expert shopping experience, both in-store and online.
BUDGET SPORT
There are ten Budget Sport stores across Finland. The stores strive to beat competition by making the shopping of sports trade products quicker, easier and less expensive. A diverse online store complements the customer experience.
THE ATHLETE'S FOOT
The Athlete's Foot is a retailer of sporty leisure footwear and clothing. The chain represents the world's best known sports goods brands and models, and it aims to promote its customers' passion for sport and bring a touch of style into their lives. The chain has six stores and an online store in Finland.
KOOKENKÄ
Kookenkä is Finland's largest shoe store chain for the whole family. The chain's 36 stores and online store cover the whole country.
Onninen's partnership chains
The Elfin chain is a national network of independent electrical contractors. The Elfin chain offers electrical products and services with more than 220 independent electrical contractors across Finland.
The Hanakat chain is a retail network of independent HEPAC entrepreneurs in Finland. The chain comprises around 80 independent entrepreneurs who offer their HEPAC solutions and overall services to consumers.
The Elfag chain is one of Norway's biggest electrical contractor chains. It includes around 120 business members.