We continue the determined execution of our growth strategy, but for now our focus is on managing the situation brought on by the coronavirus epidemic. Information on the impacts of the epidemic on Kesko's businesses can be found under the Operating environment section.
Our strategy, established in 2015, aims for profitable growth through stronger business focus and transformation. The fast-paced changes in the trading sector present us with great opportunities.
Our businesses – the grocery trade, building and technical trade, and car trade – are areas in which we have strong market positions and the best capabilities and long-term development potential. We use quality and customer orientation to differentiate ourselves from the competition, from store services to digital services.
'One unified K' is an important part of our strategy. We want to establish a strong reliable K Brand and provide even better service to our customers. In addition to a common strategy, 'One unified K' means seamless cooperation with retailers and across divisions.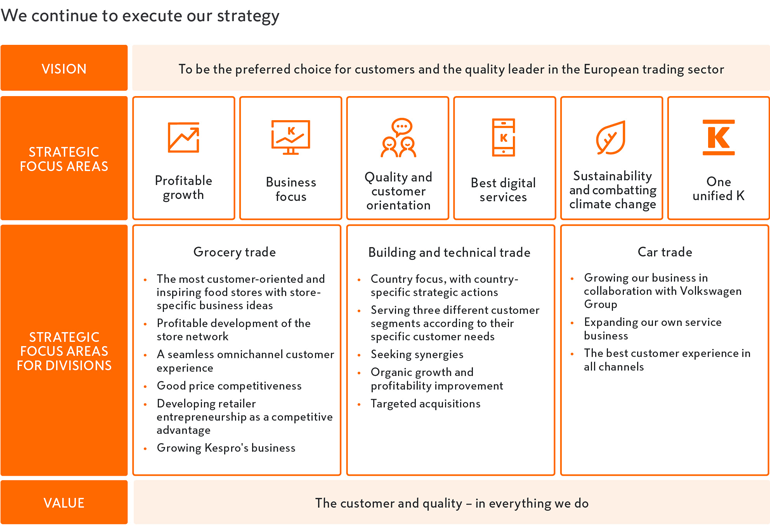 Successful growth strategy execution
In the grocery trade, we aim for continued profitable growth in Finland. We want to offer the most inspiring and customer-oriented food stores and the best digital solutions on the market. Our strategic investments in remodelling stores in all chains and store-specific business ideas tailored to each local customer base strengthened K Group's sales and customer satisfaction. K-retail entrepreneurs guarantee customer orientation and quality in our store network, which is the most extensive in Finland.
Strong growth continued in the online sales of groceries. In 2019, online grocery sales grew by 106%, and related net sales totalled €36.2 million. We thus exceeded the target for 100% growth set for the year. The growth in online sales supports the sales of our physical stores, as our most active online customers are also loyal customers for the brick and mortar stores.
Megatrends such as urbanisation, population ageing and increasingly individual customer behaviour support the strengthening of neighbourhood services. K Group holds a nearly 60% share of the neighbourhood market, with a network of 777 K-Market stores.
Growing Kespro's foodservice business is another strategic focus area, supported by the growing trend of eating out.
In the building and technical trade, we seek an even stronger position in Northern Europe, and strive to better address the expectations and particular local needs of each customer segment. Each operating country has its own customer-oriented strategy. The division's customer segments are technical professionals, professional builders, and consumers. We seek synergies both within and between the operating countries. In line with our strategy, we seek growth both organically and through targeted acquisitions.
In spring 2019, we carried out the acquisition of Fresks Group to strengthen our market position in Sweden. During the summer, Fresks was integrated into our Swedish operations under the new name K-Bygg. We divested Onninen's HEPAC contractor business, and Onninen in Sweden will now concentrate on the Infra business, where we have a strong position on the growing market. In Norway, we completed the acquisition of Sørbø's DIY retail business first agreed in 2018. Together with the acquisitions made in 2018, this strengthens our own business in Norway. These acquisitions and operational changes have strengthened our market share and operating profit in Sweden and Norway.
B2B trade now accounts for 70% of the division's sales. Building and renovation are becoming more technical and increasingly outsourced to professionals. The need for renovation building is also growing in Northern Europe. Onninen and the acquisition of Fresks in particular have strengthened our position in the growing B2B segment.
New digital services and online sales are a significant part of the customer journey and more efficient operations. For B2B customers, digital services primarily provide an efficient order channel. Consumers compare and seek information on products online, yet still usually get professional advice on choosing and using the products at the store.
In the car trade, our objective is to grow our marketleading position in Finland through close partnership with the Volkswagen Group and to strengthen our own service business and market position in retail. Our goal is to outgrow the market and improve profitability.
We strengthened our dealer network with three significant acquisitions in 2019. Their integration has proceeded well, supporting our profitable growth. During the year, K-Auto began importing Bentley and opened a Bentley showroom in Espoo.
In addition to traditional car sales and servicing operations, we continued to strengthen our service business, and began offering leasing services to both consumers and businesses. The whole car sector and the concept of mobility are rapidly changing, and we need to be constantly developing our operating models, services and technologies.
We expect the sales of electric cars to grow in upcoming years, and support the trend by expanding our K Charge network.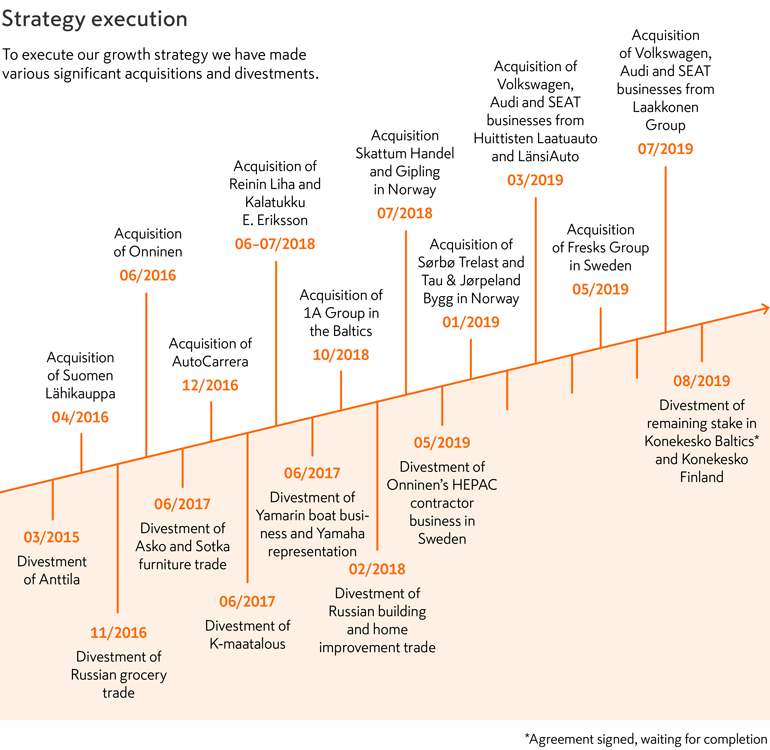 Acquisitions and divestments
Sustainable choices for our customers
Kesko has been ranked as the most sustainable grocery trade company in the world multiple times. Our key issues include transparency in sourcing, mitigating climate change and environmental care, and extensive value creation throughout the society. We want to become an even more active member of society and engage in public discussion.
We want to enable a sustainable lifestyle for our customers, and offer a multitude of sustainable alternatives in different areas. Our customers must always be able to trust that K-stores enable them to make responsible choices.
We are committed to international climate summit goals on mitigating global warming, and have set Science Based Targets for emissions from our operations and supply chain. We are reducing emissions through the use of renewable energy, energy-efficiency at our stores, and efficient logistics. All electricity purchased by Kesko in Finland is generated with renewable energy, and we are one of the biggest producers and users of solar power in the country with 34 solar power plants.
In October, we made financing agreements totalling €700 million, where the interest margin will increase or decrease depending on our ability to meet the sustainability targets set for our carbon footprint, food waste, and audits in highrisk countries. These also support Kesko's sustainability strategy and Science Based Targets.
As a sign of our long-term commitment to corporate responsibility, Kesko is included in the prestigious Dow Jones Sustainability Indices the DJSI World and DJSI Europe. Kesko ranked 99th on the Global 100 Most Sustainable Corporations in the World list published in January 2020.
Watch the President and CEO Mikko Helander's strategy review