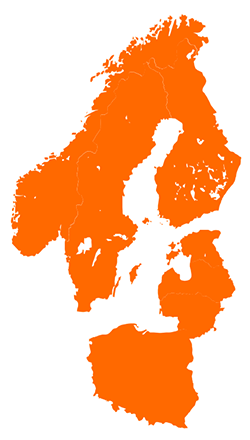 The K Group working community evolves continuously and is partly international as well – although we're a Finnish company, we do operate in seven countries around Europe: Finland, Sweden, Norway, Estonia, Latvia, Lithuania and Poland. We're much more than just a store, and we need experts in different fields to drive our digital development and utilisation of data.
Whether we work in Finland or elsewhere, we strive to realise our common goals. Our work is founded on shared values, principles and operating methods, regardless of the location.
Diverse career options
The trading sector is in constant transition, and at K Group you get to take part in steering this change. The scope of our work is extensive. We offer diverse opportunities for continuous improvement of your professional competence, in line with your own goals. As a major international organisation, we can offer you different career development opportunities, including job changes from one company or sector to another. Every year around 4,000 of us change jobs within K Group.
Create your own career map – and make it come true!
At K Group, you'll have many different development paths available for evolving as a professional. Diverse experience from various jobs and training that prepares you for different duties form a solid foundation for facing new challenges.
We offer different models for career planning and support your development in many ways. At K Group, competence development goes beyond participation in training. Our rule of thumb is that most (70%) of the learning takes place by learning on the job, 20% by learning from others and 10% through conventional training. You may utilise our entire competence development offering when preparing your personal development plan.
Extensive personnel benefits
The personnel benefits that we offer are diverse and extensive. Clearly the most popular personnel benefit is the K Group employee benefit card that entitles its holders for discounts in many stores around Finland.
​Additionally, Kesko Group utilises the ePass, which the employees can use as they see fit to pay for their hobbies, commuting or well-being services.