Kesko will publish its half-year financial report for January-June 2021 on Friday, 23 July 2021, at around 9.00 am Finnish time. There is a Finnish-language webcast at 11.00 am the same day, and an English audiocast/teleconference at 12.30 noon (see details here).
Below is recap of Kesko's key events and news in Q2/2021.

Group and shares
* On 14 June 2021, Kesko issued a positive profit warning based in particular on stronger-than-anticipated development in building and technical trade (see release)
* On 27 May 2021, Kesko updated its financial targets, stating it will continue the implementation of its successful growth strategy (see release)
* The latest change in the holding of Kesko Corporation's treasury shares on 29 April 2021 (see release)
* Kesko managed to defend its position in the top five most valuable Finnish brands at 4th place (up 3% to €1.2bn) in the Brand Finance ranking (see release)
* Kesko's investor pages were ranked second best in Finland by the Finnish Foundation for Share Promotion, the Finnish Society of Financial Analysts and financial media. Kesko has been among the top 2 in the competition for four years in a row (more information in Finnish)
Sales development

* Kesko's sales in April (see release)
* Kesko's sales in May (see release)
Other materials
* A strategy update by Kesko's President and CEO Mikko Helander (see video)
* Our latest road show presentation (see presentation)
* Our latest IR blog with CDO Anni Ronkainen discussing the use of data in developing customer experiences can be found here
Grocery trade news
* K Group strengthens its market-leading position in Finnish online grocery by investing tens of millions of euros in collection automation and builds the first partially-automated collection system in Finland (see release)
* K Group revamps its grocery stores based on tailored store-specific business ideas, investing €120 million in store network this year (see release)
Car trade news
* Kesko conducted codetermination negotiations in its car trade division as part of larger effort to make changes in the division (see releases here and here)
Sustainability news
* K Group increases the use of Finnish wind power substantially – share of K Group's electricity purchases to rise to 20% (see release)
* The K Charge network will expand in 2021 with 20 new charging stations – fast charging up by over 130% (see release)
* Food waste in K-food stores down by a record 9% in 2020 (see release)
* Riikka Joukio begins work as Kesko's new EVP of Corporate Responsibility and Public Affairs (see release)
* More than €5 million raised with the 'Thank the Producer' model for Finnish food producers (release)
* Finns favour domestic products at a level that is exceptional on a global scale (see release)
* All Pirkka and K-Menu tuna cans to have QR codes that enable customers to access information on the products' origin (see release)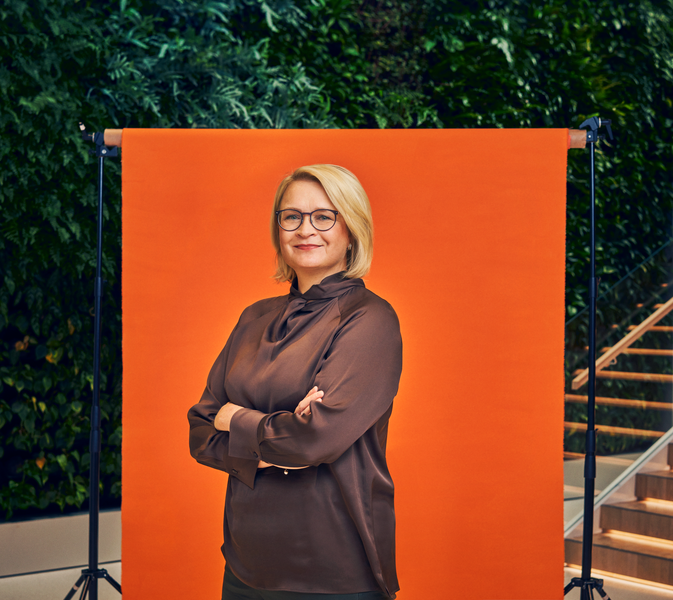 Anni Ronkainen joined Kesko's Group Management Board as the company's Chief Digital Officer in 2015, having previously worked as Google's Country Manager in Finland. During her extensive career, she has witnessed first-hand the digital evolution from the first primitive corporate websites to the modern use of analytics and AI to predict future customer behaviour.
Ronkainen sat down with Kesko's Vice President of Investor Relations Hanna Jaakkola to discuss how Kesko uses data to create excellent customer experiences and how Kesko intends to maintain its No. 1 position in Finnish online grocery trade.
(The discussion is available in Finnish as a podcast here).
K-retailers

crucial in

making Kesko No. 1

in

Finnish online grocery

trade
The popularity of buying groceries online has exploded in Finland over the past year, naturally boosted in part by the pandemic. Understandably, developing Kesko's online grocery sales solutions has also kept the CDO very busy. The hard work has paid off, with Kesko currently being the undisputed market leader in online grocery in Finland with an over 50% market share.

Ronkainen notes that the top position is the result of long-term efforts on Kesko's part. Kesko had been developing its online capabilities long before the pandemic, though for years online only accounted for a very small share of grocery sales in Finland for both Kesko and its competitors: in 2019, the figure still stood at just 0.6%, jumping to 2.5% in 2020.
"When the pandemic hit, we had the basics for online grocery operations in place. What enabled us to quickly scale up operations is our retailer business model: our grocery stores are run by independent retailer entrepreneurs, who do everything they can to best serve their local customers. The retailers have also played a crucial role in driving growth online, while Kesko has provided the platform and enabled smooth online operations for the retailers," says Ronkainen.

Anni Ronkainen expects online grocery shopping to become a lasting, slightly growing trend in Finland. But can Kesko maintain its market-leading position also going forward? The CDO acknowledges that it is a constantly moving target. Customer expectations are growing, and it is crucial to pay close attention to what the customers want.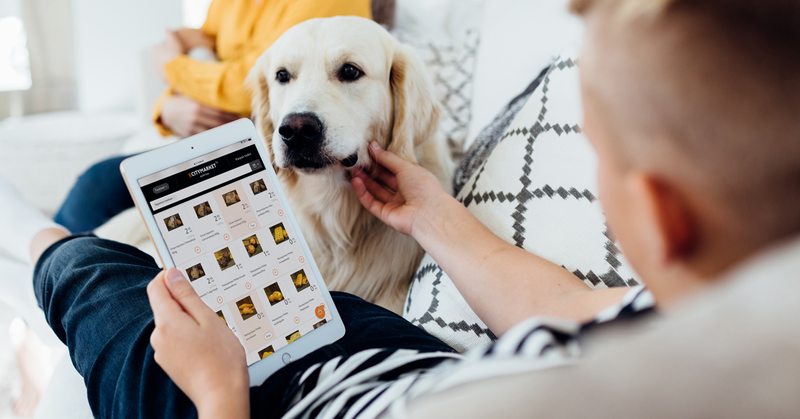 "We must review new service options while simultaneously also examining new delivery alternatives. We must also constantly keep operational efficiency in mind. It's important for Kesko to make the combination of physical stores and online shopping a competitive advantage for itself, and to offer a seamless solution to customers."
U
tilising customer data responsibly to offer more personalised service in the stores
Ronkainen believes that the possibilities of utilising data and digitalisation in K Group's physical stores extend far beyond the current use of electronic price displays and marketing screens. New solutions entail more extensive use of customer data, respecting of course all regulatory guidelines on the matter. Ronkainen notes that Kesko is collaborating closely with authorities on this to ensure that it will continue to be able to utilise data to both serve customers and inform its own business development.
"I'm sure every retailer dreams of the day when they are automatically alerted to the arrival of their best customers to the store, so that they can, for example, offer personalised benefits to those customers. We have a long way to go, and of course need to first resolve all regulatory aspects."
The basics of a good c

ustomer experi

e

nce

are the same whether buying groceries or a car
Providing positive customer experiences is part of Kesko's strategy. Good customer experiences are crucial for Kesko's all three divisions, that is grocery trade, car trade, and building and technical trade. According to Ronkainen, Kesko is able to leverage the experiences obtained in one division in the other two.

"When it comes to creating a positive customer experience, the same principles apply in all our divisions. However, there are also division-specific critical factors that we must be able to identify. NPS is a good tool for measuring customer satisfaction, but it does not tell us why customers are happy. This is why we need lots of additional data to find out where the magic comes from."
One area of retail where customer experience has not, perhaps, been so central, is car trade.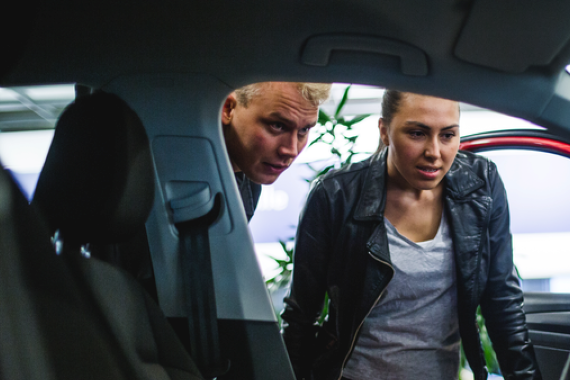 "We've all heard some stories, and there is plenty of room for improvement in the car sales business in general, especially perhaps in the treatment of female customers. Consumers expect good service regardless of whether they are buying groceries or a car. This applies to online shopping and digital services as well as visiting a car dealership in person."
When

adopting new technologies

, timing is everything
The world is changing fast, with new technologies constantly being introduced. Ronkainen emphasises the importance of identifying the technologies that are crucial for customers on the one hand, and for Kesko's business on the other.
"It's a constant race, and timing is also crucial: we must determine the right time to adopt new technologies so that we are not too early and not too late. We must stay alert to see the changes in people's online shopping behaviour, so that we will be ready to move to the next stage when it's the right time," says Ronkainen.
Anni Ronkainen firmly believes that a business can't go wrong as long as it keeps the customer at the centre of everything it does: "It's when you concentrate on optimising internal processes that you lose focus, you forget about customer needs. When developing new solutions, it always essential to remember who they are for."
Kesko held its 2021 Annual General Meeting on 12 April. In order to prevent the spread of the Covid-19 pandemic, special arrangements were in place, unfortunately preventing Kesko's shareholders and their representatives from attending the meeting in person. Shareholders were instead given the opportunity to vote and submit counterproposals and questions in advance, and to follow the meeting as a live webcast. Naturally, we all hope that next year things are back to normal so that Kesko's Annual General Meeting can once again bring together Kesko's management and shareholders.
A total of 1,973 shareholders were presented at the meeting, representing some 183.5 million Kesko shares and 756.7 million votes. The Annual General Meeting was in favour of all proposals submitted by the Shareholders' Nomination Committee and the Board of Directors. The meeting resolved, among other things, to distribute a dividend of €0.75 per share for the year 2020. It also authorised the Board to decide on the issuance of shares and elected an Auditor for the company. Click here for all resolutions of the 2021 Annual General Meeting.
Esa Kiiskinen, Kesko's Board Chair, welcomed shareholders to watch the Annual General Meeting live webcast
The Annual General Meeting also elected seven members to form a new Board of Directors to serve the company for the next three years. Retailer Esa Kiiskinen, managing director Jannica Fagerholm, Board professional Peter Fagernäs, Metso Outotec's SVP, Business Development Piia Karhu, and retailer Toni Pokela will continue as Board members. New additions to the Board include long-time K-Rauta retailer Jussi Perälä and finance sector professional Timo Ritakallio. In the following videos, the two new members explain how they view Kesko's current strategy, and what they think they can bring to the table.
All members of the Board are presented here. After the Annual General Meeting, the Board held an organisational meeting in which it elected from amongst its members the Board Chair, Deputy Chair and Audit and Remuneration Committee members.
Kesko also announced yesterday that Mikko Helander, who has been the company's President and CEO since 2015, will not retire in June 2023 as originally agreed, but will instead continue to helm the company for the time being. Kesko's Board Chair Esa Kiiskinen noted in his speech that Kesko has successfully undergone a strong transformation in recent years, and that the transformation and growth will continue under Mikko Helander also going forward.
Kiiskinen further expressed his thanks to the company's management, retailers, K Group personnel, Kesko shareholders and all other partners for their contributions to Kesko's success.
Visit the 2021 Annual General Meeting webpage to access all meeting materials.