Building and technical trade is Kesko's international arm, with operations in eight countries: Sweden, Norway, Poland, Estonia, Latvia, Lithuania, Belarus as well as Finland. The division serves both consumers and B2B customers, with total net sales some 4.4 billion euros when including the sales from leisure trade operations.
Kesko's Vice President of Investor Relations Hanna Jaakkola sat down with the division's President and Kesko's Deputy CEO Jorma Rauhala to discuss what is happening on the building and technical trade markets.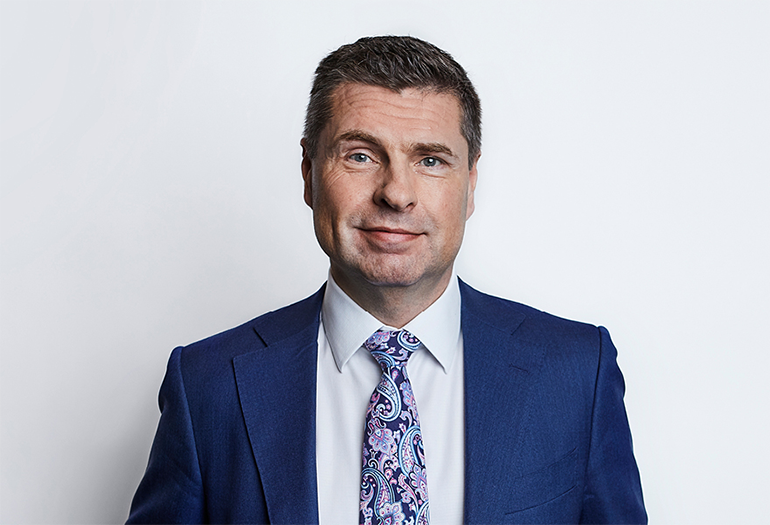 Hanna Jaakkola: Jorma, how has the coronavirus epidemic affected the building and technical trade division in Finland?
Jorma Rauhala: We began to see the impacts in mid-March. I remember we had a Group Management Board meeting on 12 March, and we started getting messages from our grocery trade retailers, saying store shelves were emptying out fast. For building and technical trade, there was no immediate impact.
We then saw a delayed positive impact in the form of an uptick in consumer sales in our building and home improvement stores. People were spending time at home and at their summer houses and were not travelling or eating out, so they began to do renovations and work on their gardens. In terms of consumer sales, this has been an extraordinarily good spring.
In B2B trade, which is very significant for us, it has been business as usual. We've haven't seen any extra uptick, but also no downturn. So, spring was good for B2B in both building and home improvement trade and Onninen.
In leisure trade there was a fairly big change, as people stopped going to shopping malls. This had a negative impact on Kookenkä shoe stores and Intersport stores. However, from mid-April onwards and especially in May things have begun to return to normal, and we've even seen some good figures.
Hanna Jaakkola: What about other Nordic countries?
Jorma Rauhala: Developments in Norway and Sweden have been very similar to Finland. There has been a boom on the consumer side in both countries: we've broken sales records in K-rauta stores in Sweden and Byggmakker stores in Norway. Meanwhile, B2B sales in both countries are at their normal level. Overall, the impact has been positive for us.
Hanna Jaakkola: What has the impact been on the Baltics and Poland?
Jorma Rauhala: Well, in Lithuania, stores had to be closed for a month from mid-March onwards, and obviously that had a negative impact on sales, one that online sales could not compensate for. Now stores have been open in Lithuania for weeks.
In Estonia and Latvia, we've not seen as strong a boom in consumer sales as in the Nordics, although figures have been positive. B2B sales are showing some signs of slowing down. Still, apart from Lithuania, overall figures in the Baltics are quite good.
In Poland, we of course only engage in B2B through Onninen. Restrictions in Poland had an impact on construction activity, but not a major one, and things have begun to return to normal in Poland as well.
*
Hanna Jaakkola: Let's turn our attention towards the future. Predictions by many economic research institutions are negative. How do you view market risks in our operations in Finland and the other operating countries?
Jorma Rauhala: I trust that consumer sales will continue to be good this summer, as people will be travelling less. Finns normally spend a total of 5 billion euros a year on foreign travel: now that they are staying home or at their summer houses, I believe people will continue to do renovations and tend their gardens, although eventually this activity will slow down.
B2B sales are still good, but I do expect the recession to start have an impact there come autumn. Based on various economic predictions, we're anticipating a drop of 4% to 5% in construction in Finland next year. However, we do not expect renovation activity to decline as much, which is a positive for us. Renovation may even grow, as may infrastructure construction. That structure is positive for us. But it is clear construction will decline this autumn and next year.
Hanna Jaakkola: We have seen a surge in online sales in the grocery trade. Have online sales grown in BTT as well?
Jorma Rauhala: When it comes to online sales in our division, we must make a distinction between B2B customers and consumers. We've actually offered very good online shopping for B2B customers for years now. For example, the sales of Onninen's Onnshop amount to hundreds of millions of euros. But it is just one order submission channel among many, and B2B customers seek flexible and functional systems for submitting orders and invoicing.
With consumers, we are talking about online shopping in a more common sense of the word. We've seen significant growth – online sales of K-Rauta in Finland have increased by over 100% – but not to the extent of the 800% growth rate seen in the grocery trade.
Most consumers compare the products online, then come to the store often already decided on what to buy. That makes online very important. People examine the products, then come to the store to see what their chosen colours and tiles look like in real life. But online sales are growing significantly, and in Finland we have a competitive advantage in our network of 130 stores, which can deliver the products anywhere in the country.
Hanna Jaakkola: Isn't customer satisfaction high?
Jorma Rauhala: lt's very high, even though online sales logistics and timely delivery for construction supplies is not that easy.

Hanna Jaakkola: The summer season is now in full swing in the building and technical trade.
Jorma Rauhala: Yes. It seems that the whole sector has done well, but of course we were able to take over market share significantly early in the year in Finland, both for K-Rauta and Onninen, and I believe that trend has continued. I've thought a lot about why that is, and I believe it has a lot to do with our supply chain, which has been very effective throughout. Our sales staff has been at work, our product availability has been exceptional, our logistics have run without a hitch – our entire supply chain has been performing excellently. The whole sector has done well, but we have done even better.
Hanna Jaakkola: Kesko's strategy emphasises growth.
Jorma Rauhala: Yes, and that is especially true for the building and technical trade division, where we continue to seek growth, also internationally. Even during the epidemic, we are keeping an eye on various possibilities, including acquisitions. We are particularly looking to grow in B2B in Finland and especially in Sweden and Norway, also via acquisitions.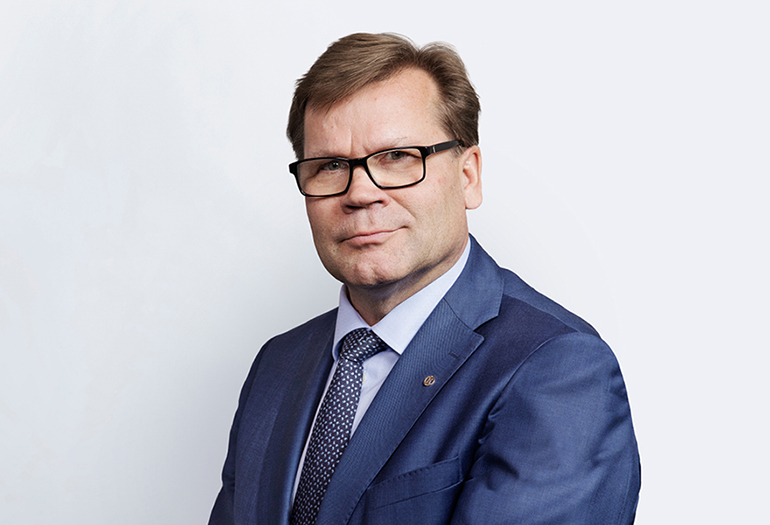 Hanna Jaakkola, Vice President, IR: Kesko recorded its all-time record result in 2019. What was the reason behind our success?
Mikko Helander, President and CEO: 2019 was indeed our all-time best year, and that is primarily thanks to the successful strategic choices we have made together, at both Group and division levels. Moreover, it was thanks to the exemplary implementation of those choices across Kesko and K Group.
Hanna: How did we succeed in strategy execution in our three divisions, the grocery trade, building and technical trade, and car trade?
Mikko: Good progress was seen in all our divisions. In the grocery trade, the good sales performance we've seen grew even stronger. Even better, the sales development and growth were also profitable. This is thanks to our successful strategic choices. I want to especially stress store-specific business ideas, which retailers have implemented with Kesko's support.
In the building and technical trade, good development continued also in 2019. Sales grew and profit improved. Performance was strong particularly in Finland, where K-Rauta broke records and Onninen's performance continued strong. In terms of strategy, the successful acquisitions carried out in Sweden and Norway have of course been very important, and have strengthened our position in those countries.
I must once again applaud our car trade division, which in an exceptionally challenging market situation still managed to maintain good profitability, and carried out strategically important acquisitions and measures to ensure competitiveness.
Thus all three divisions performed very well.
Hanna: Those were good examples of our success, but is there something else you would like to stress, something you are particularly proud of?
Mikko: There are many such things. Overall, I am pleased and we should all be proud of our ability do and develop our business though our strategies, and read the operating environment and make strategic choices. We at K Group, that is Kesko together with K-retailers, are great at implementing in close collaboration plans and things we've agreed on. This gives me hope and faith also going forward.
Hanna: So we've had wind in our sails and have moved forward. But what has been the most challenging part of our strategy execution?
Mikko: Whenever managing a business, especially a company of this size, the most challenging aspect – but also a very interesting one – are the strategic choices. How well we are able to read the operating environment and assess changes, and make successful strategic choices based on that. As I said, that is challenging, but also very interesting. And as the results show, we are good at this.
Hanna: Sustainability and combatting climate change have an important role in Kesko. What does this mean in practice?
Mikko: Sustainability and combatting climate change are increasingly crucial strategic focus areas for us. This means even greater commitment to our successful long-term sustainability work. We will also share our bigger and smaller sustainability efforts more with the public and our customers. Our sustainability work and climate efforts must be made visible and tangible in all K Group's operations, especially all our 1,800 stores in Northern Europe.
Hanna: What threats and opportunities do you see in our operating environment?

Mikko: In terms of the future and our operating environment, I want to emphasise the opportunities. If we think of the type of company Kesko is, our good financial position and our results, I see interesting opportunities for us in the future.
Of course, there are always threats as well. However, we can use the same strengths – the ability to read the operating environment and make and determinately execute the right choices. I firmly believe that executing our existing strategies is the best way to ensure our success amidst tightening competition also going forward.

Hanna: How do you see the future? Can Kesko and K Group continue their success?
Mikko: When it comes to the future of Kesko and K Group, these days I'm often asked how much more we can still improve our operations, both as a whole and at division level. To that I say "significantly". Our actions so far have proven effective. Our strategic choices have been right. By implementing these even more determinedly, I am sure we can reach even better figures, both commercially and financially. So the future looks bright, and it won't be boring.