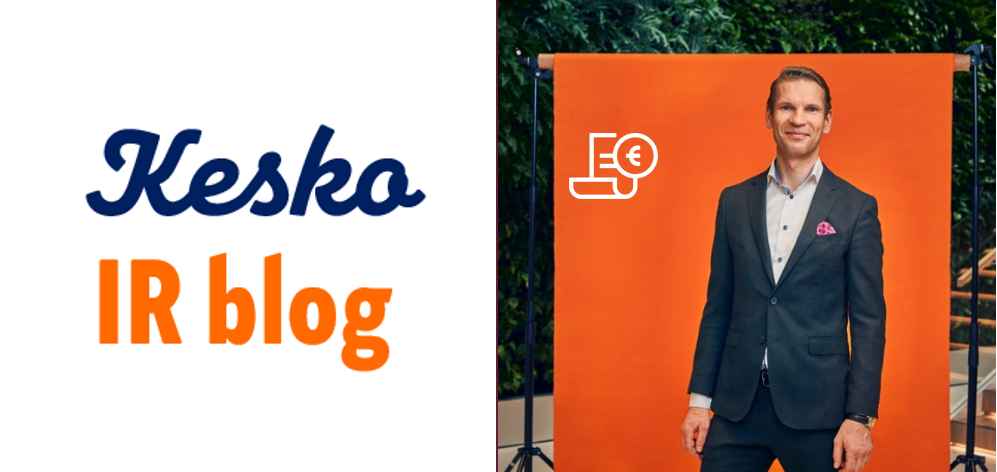 Chief Financial Officer Jukka Erlund is responsible not only for Kesko's financial operations, but also for M&A, IT and risk management. Digitalisation is a key theme in Kesko's strategy, and Erlund is overseeing various IT projects that aim to improve customer experiences and increase operational efficiency with the help of automation, for example. Sustainability and efforts to combat climate change are also issues a CFO must tackle these days, especially in the form of EU taxonomy and related reporting.
After a busy budgeting season for 2022, Erlund sat down with Kesko's Vice President of Investor Relations Hanna Jaakkola to discuss, among other things, how the pandemic has impacted Kesko's operations and will shape them going forward, how the company strives to improve the efficiency of its operations, where investments will be focused, and how Kesko can meet and maintain the financial targets set earlier this year.
(The discussion is available in Finnish as a podcast here).
Kesko's strong transformation has attracted a record-number of shareholders
The number of Finnish households owning shares in Kesko has grown significantly over the past few years. Kesko currently has some 65,000 shareholders, and the number has risen by more than 57% since the beginning of 2020. What does Jukka Erlund consider to be the main factors behind the rise in popularity?
Erlund stresses the importance of the large-scale transformation Kesko has underwent over the past six years. This transformation has resulted in growth in sales, market shares, profitability –and consequently also dividends. Kesko shares have offered good returns for investors. The transformation has also caused Kesko's brand to become stronger, and Erlund believes this has not gone unnoticed by consumers and private investors.
Strong strategy execution and technology help in achieving financial targets
To ensure success and good performance also going forward, in May 2021, Kesko's Board of Directors confirmed an updated version of the company's strategy and set new medium-term financial targets. Kesko now targets a comparable operating margin of over 6.0% (previously 5.5%) and a comparable return on capital employed of over 14.5% (previously 12.5%).
Erlund considers three factors crucial for achieving and maintaining the levels set in the financial targets: the continued execution of Kesko's growth strategy, further improvement of operational efficiency, and successful capital allocation.
The execution of the updated growth strategy will continue in all three divisions both organically and in some operations also possibly via acquisitions. Operational efficiency can be improved by updating processes and increasing the use of automation. As Erlund notes, Kesko is a more than 80-year-old company, and there are consequently various legacy processes that continue to involve manual work. With the help of technology and process automation, these processes can be made much more efficient.
Capital expenditure driven by strategy – major investments in digitalisation and better customer experience in all three divisions
Kesko's balance sheet is strong and in practice, the company is free of debt. Thus it is able to make investments, but how are those investments prioritised?
Erlund stresses that Kesko's capital expenditure is driven by its strategy. Capital is allocated where it can be expected to provide the best returns. The main focus in investments varies between the divisions, but in all three there is an emphasis on two key strategic focus areas: digitalisation and improving customer experiences. This means a very strong focus on digital services and online sales in all three divisions. In grocery trade, investments are also made in remodelling and updating existing physical stores and on further developing online grocery operations. In car trade, investments are made also in growing the used cars business and leasing services.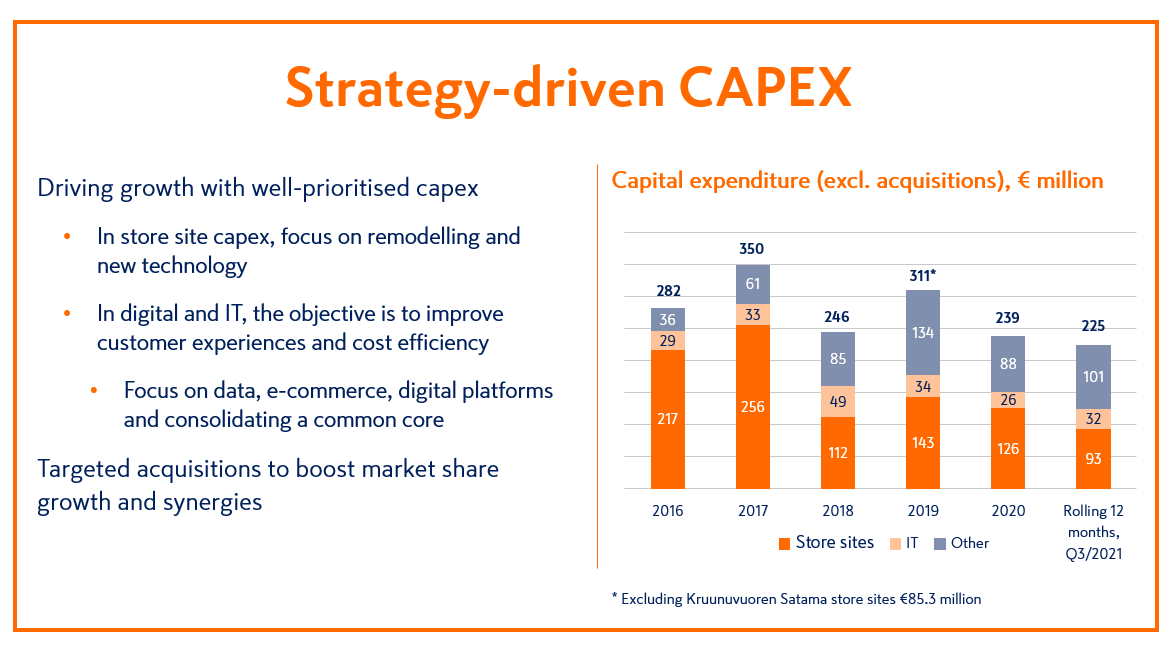 In building and technical trade, Kesko has expressed an interest in further sector consolidation via acquisitions in Northern Europe. According to Erlund, the best potential for increasing market share through acquisitions can be found in Sweden and Norway. The strategic focus is on B2B operations, which already account for some 70% of the building and technical trade division's business.
The pandemic has accelerated digitalisation, changes brought on by the pandemic will impact Kesko's business going forward
When asked how Covid-19 has impacted Kesko, Erlund notes that obviously the pandemic has affected everything in our lives over the past few years. Kesko has enjoyed the positive boost experienced in the retail sector as consumers have focused on the domestic markets and spent less on services. On the other hand, the pandemic has negatively impacted, for example, Kesko's foodservice wholesale company Kespro, and caused issues with production and supply chains.
Erlund believes the pandemic has accelerated the digitalisation trends already underway before the pandemic, and does not think it is likely that we will return to the way things were. For one thing: "People are likely to continue working from home to a significant extent, and this will have an impact on Kesko's business, as it changes the way people buy their food and the way they want to live and arrange their homes," Erlund notes.