IR Blog: Finland's leading food wholesaler Kespro sees great growth potential as people return to restaurants and cafeterias
15.11.2021
Kespro is the foodservice arm of Kesko's grocery trade division. Like Kesko's grocery stores, Kespro sells food and food-related products, but as the name suggests, instead of consumers, the focus is on professionals: restaurants, cafés, hotels, service stations and other establishments within the foodservice sector that prepare and offer meals and services to people. The pandemic hit most of Kespro's customers hard, but in the long term, the popularity of eating out is expected to continue to grow in Finland. As the market leader in foodservice wholesale, Kespro is set to gain significantly from this.
Kesko's grocery stores and Kespro's foodservice wholesale form a unique, winning combination in Finnish food trade. While grocery stores have been thriving during the pandemic, through Kespro, Kesko is set to gain also from consumers' growing interest in outsourcing their cooking and eating out.
Kesko's Vice President of Investor Relations Hanna Jaakkola sat down with Kespro's Managing Director Mika Halmesmäki to discuss the big post-pandemic growth potential in the foodservice market, and Kespro's role in enabling the success of its customers.
(The discussion is available in Finnish as a podcast here).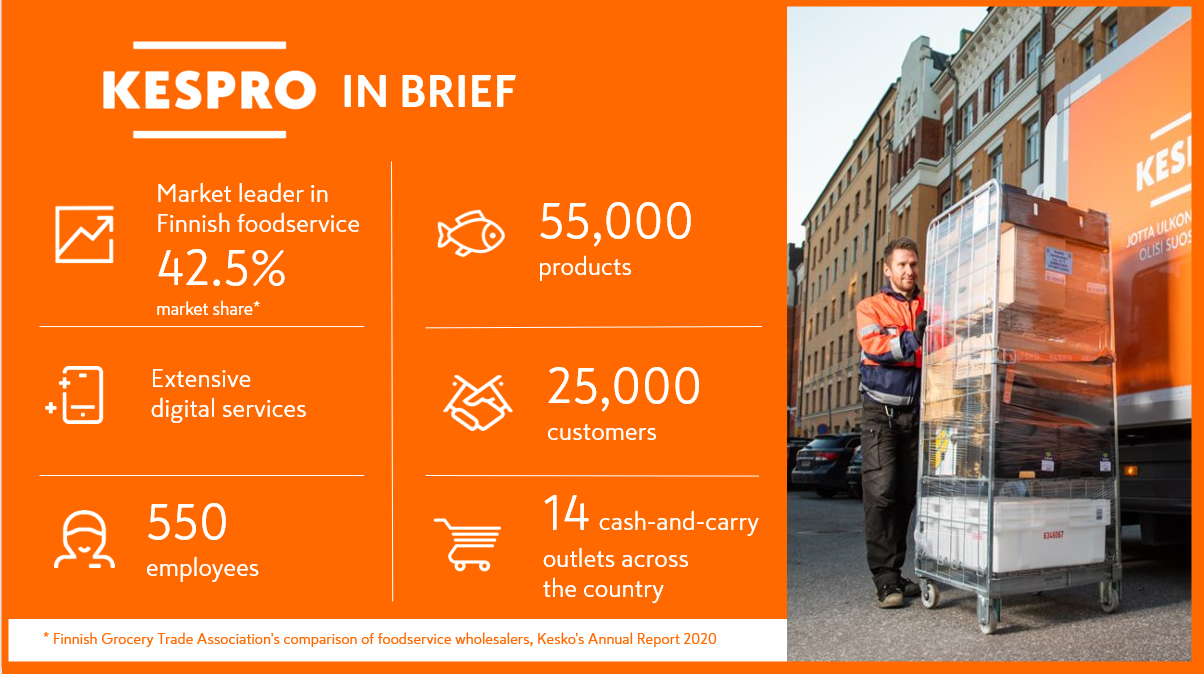 A market worth some 4 billion euros
According to Mika Halmesmäki, the foodservice wholesale market in Finland is estimated to be worth some 4 billion euros. Professional kitchens prepare and serve nearly 750 million meals per year. They represent a wide and varied customer base that comprises, for example, restaurants, cafés, hotels, school and workplace cafeterias, hospitals, service stations and grocery stores.
Kespro serves all these operators, offering a wide range of products and services related to food and drink as well as supplies for kitchens and dining areas. Furthermore, Kespro offers its customers services that can help the customers develop their business further. Kespro strives to work together with its customers to make eating out not only more popular but also more sustainable.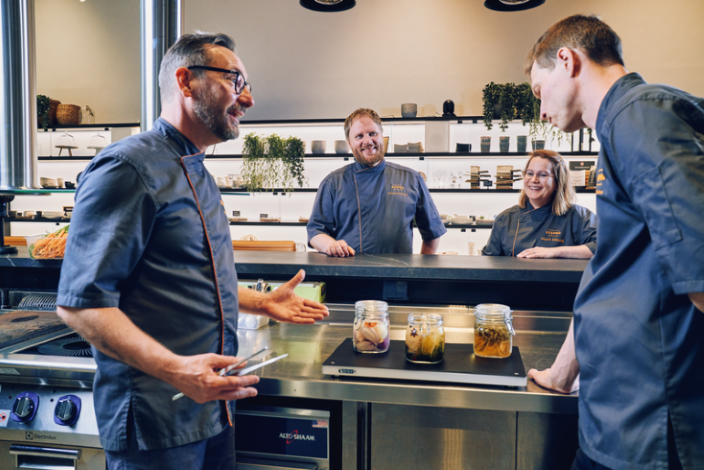 At Kespro's Foodsteri test kitchens, customers and Kespro experts come together to innovate and develop commercially viable solutions for the customer, from menus to entire business concepts.
In 2020, Kespro's market share in foodservice wholesale was 42.5%. Halmesmäki notes that Kespro does not only compete against other general wholesale companies, but also certain manufacturers and producers that sell their products directly to restaurants and cafés, as well as specialty wholesalers that focus on specific product categories. General wholesalers such as Kespro control approximately half of the market.
With such a varied and diverse customer base, Halmesmäki sees great growth potential for Kespro in offering the best services to the whole foodservice market, while tailoring its services for each customer segment: "For example, Kespro has a strong foothold in both fine dining and with customers in the public sector – these are two very different customer segments with very few overlapping needs."
In-depth customer insight and agility are competitive advantages that allow Kespro to help its customers in both good times and bad
Kespro's in-depth understanding of its customers became particularly crucial when the Covid-19 pandemic hit the foodservice sector and brought about changes in consumer behaviour as well as restrictions imposed on restaurants and events. By supporting and helping its customers Kespro has been able to grow its market share also during the pandemic.
"Although Covid-19 put a temporary halt on the market, we never stopped moving forward."
Halmesmäki stresses the role of Kespro's skilled personnel and its agile culture, which have enabled it to stay on top of and respond to the changing needs of its customers also under exceptional circumstances, while constantly ensuring the availability of products and services. Kespro has also been supporting its customers in creating new take away solutions, while also providing them with masks and various hygiene solutions and even small greenhouses for outdoor dining.
From a traditional wholesale company to a platform-based business
Before the pandemic, the popularity of eating out was growing at a significant pace in Finland. Mika Halmesmäki expects this trend to continue also going forward, as Finland is still behind many of its European peers when it comes to eating out.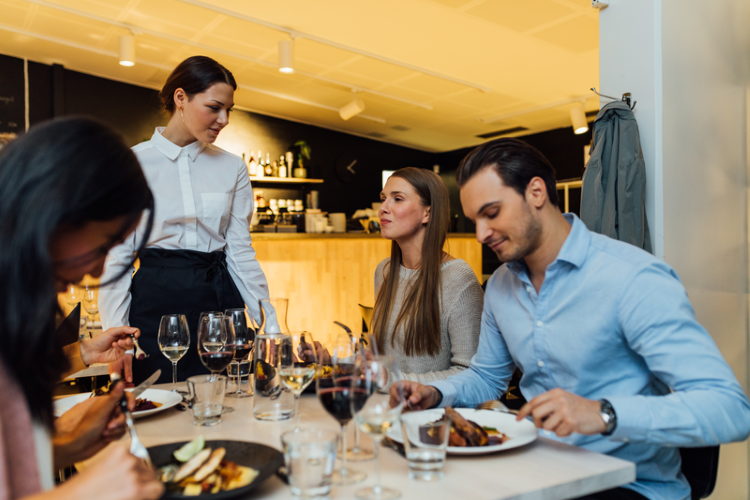 Eating out was a growing trend in Finland before the pandemic. The growth is expected to continue in a post-pandemic world, and as the market leader in foodservice sales, Kespro is expected to benefit from this.
Of course no one can say for certain when we can enter a truly post-pandemic world. According to Halmesmäki, Kespro mitigates risks through continuous development of operations and investments in growth and innovation: "Although Covid-19 put a temporary halt on the market, we never stopped moving forward." The diversity of Kespro's customer base also helps mitigate risks.
Digitalisation is central to all Kesko's operations, and this applies to Kespro, too. Going forward, Kespro sees further potential in adopting a more platform-based approach to its services: "One could argue that as a traditional wholesaler, we are already a platform: we offer customers a wide range of products and services, and suppliers and product manufacturers the best sales and logistics channels on the Finnish foodservice market. However, we are interested in examining what a wholesale platform of the future could entail, and how we could expand that platform through innovation," concludes Halmesmäki.