The assessment of safety, quality and health impacts of Kesko's private label and own import products is part of the operations of the Quality and Product Development Unit of Kesko's Grocery Trade Division.
The manufacturers of Kesko's own brand food products are required to have a certified food safety management system. The food safety management systems approved by Kesko's grocery trade include BRCGS, IFS, FSSC 22000 and GlobalGAP.
Quality and Product Development Unit's Quality Team is responsible of the management of Kesko's private label and own import products' safety and quality. During the product's life cycle, the risks involved with the product are assessed according Kesko's HACCP based self-control plan in co-operation with the supplier. Each product group undergoes an annual quality and safety risk assessment and, as a result of the assessment, an own-check sampling plan for specific products is made.
The Vulnerability Assessment Critical Control Points (VACCP) method is used to annually identify and control the risks that could lead to food fraud and cause serious food safety incidents, costly product recalls, business closure, and legal action. In addition, Kesko's Internal Audit Unit reviews the product related risks and actions quarterly with each of Kesko's business divisions.
In the product development and selection phase, the Quality Team compiles quality requirements for the candidate products, which include the legal and technical aspects. Samples of candidate products undergo sensory and laboratory analysis to verify if they meet the quality requirements and can be selected as Kesko's private label product. The labelling for the product selected to Kesko's private label assortment is compiled according to the legal requirements and according to recommendations by the authorities.

If any errors or defects are found in the products within Kesko's assortment, the Quality Team coordinates and notifies a product recall so that the products are withdrawn from the K-food stores as quickly as possible.
Quality and Product Development Unit's Laboratory Team analyses the products' microbiological, chemical and physical properties. The laboratory has been accredited by the Finnish Accreditation Service FINAS and approved to comply with the SFS-EN ISO/IEC 17025 standard (testing laboratory T251) and has also the status of official food laboratory approved by the Finnish Food Authority.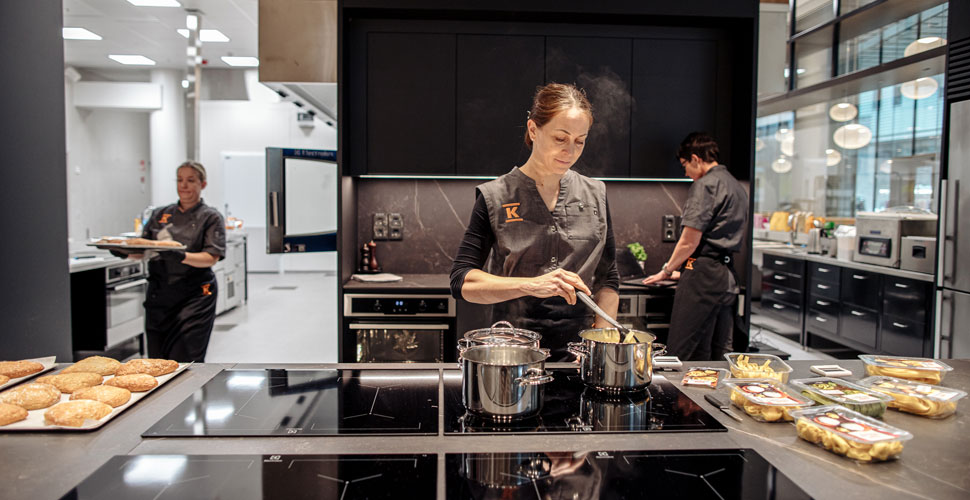 The Product Development Kitchen Team evaluates the product's sensory properties and develops own brand products together with Kesko's purchasing teams and the supplier.
The Customer Service Team answers to customers' questions and feedback concerning Kesko's own brand products with professional support and product group specific expertise of the Quality and Product Development Unit's other teams.