We are committed to promoting equal opportunities and non-discrimination in all of our operations. We aim to be an innovative and evolving working community in which every employee is accepted as they are.
We focus especially on developing corporate culture, employee experience, competence development, leadership, and employee wellbeing.
Over 70% our employees work in Finland
In 2021, Kesko had an average of approximately 17,402 (2020: 17,650) full-time equivalent employees in seven countries: Finland, Sweden, Norway, Estonia, Latvia, Lithuania and Poland. 71.5% of the personnel were based in Finland and 28.5% in our other operating countries.
Towards a new career
Internal job rotation opens up opportunities for various careers options. In 2021, 2,396 internal transfers were made in Finland (2020: 2,093) and in total 725 in the other operating countries (2020: 689).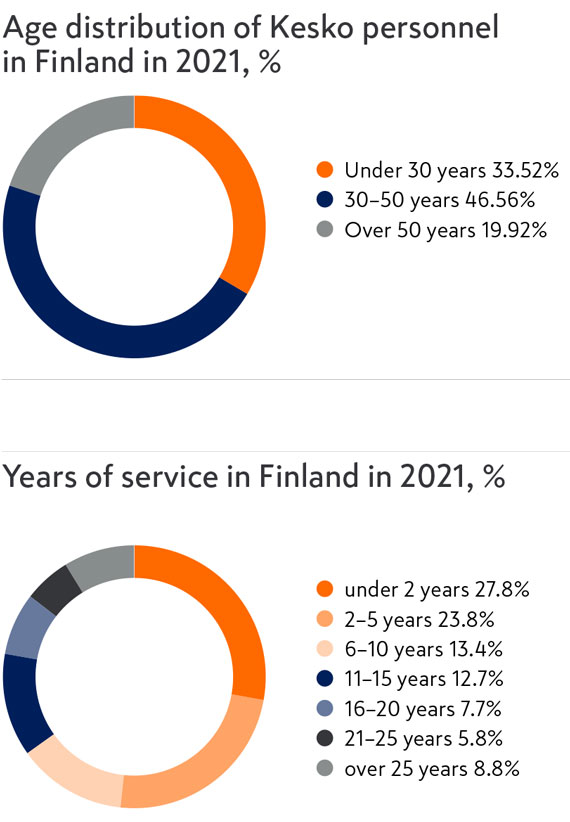 We promote equal opportunities and diversity
Zero-tolerance for discrimination
Equal opportunities, fairness, non-discrimination and equality are important principles that are observed at Kesko. Kesko Corporation and its subsidiaries in Finland draw up statutory company-specific HR, training, equality and nondiscrimination plans and define objectives for improvement.
Kesko has established an Employee Equality and Diversity Group in accordance with a non-discrimination plan, which handles matters related to non-discrimination and equality within the Group. The Employee Equality and Diversity Group includes representatives of the employer, personnel and labour protection functions. Based on the working group's initiative, we continued to implement the guidelines that we drafted in 2020 on how to react should a customer or a member of the working community speak in a racist or otherwise derogatory manner. In addition, to prevent discrimination, we provided training to shop stewards at K-Citymarket department stores on subconscious prejudices.

No cases of discrimination were reported to us in 2021.
Diverse working community
In 2021, we utilised our draft for diversity and inclusion programme as part of the work to update our new sustainability strategy. We continued our work to promote a diverse and inclusive working community using, among others, our New Job model to promote the conditions for persons with partial work capacity to continue in working life and by continuing the trainee programme targeted at immigrants that was piloted in spring 2020.

Immigrants are an increasingly important target group for recruitment into service positions in the retail sector. At present, the highest number of immigrants are employed in the stores and warehouses of K Group. Employing people with an immigrant background will require new operating methods – for example, the needs of people whose first language is not Finnish must be taken into account in guidelines and management.
According to the diversity policy of Kesko's Board of Directors, Kesko seeks to have a balanced representation of genders on the Board. At the end of 2021, women accounted for two out of the seven members of the Board of Directors, and three out of the nine members of the Group Management Board.
Read more in Kesko's Annual Report.