It comes as no surprise to anyone that this has been a bizarre year: not only has it turned our lives upside down, it has also wreaked havoc on many businesses and the economy. Amidst all the uncertainty, many investors have viewed Kesko as a stable investment, reasoning, perhaps, that people will always need grocery stores for food. The share split we carried out in May also increased interest towards the share among private investors. Consequently, we have been thrilled to see the number of Kesko shareholders grow by nearly 14,000 in 2020!
The year has indeed been a strong one for our grocery trade: as food retail sales have grown, so have the market shares of our stores of all sizes. Growth has been particularly staggering online, where Kesko is the undisputed market leader in Finland with a 55% market share.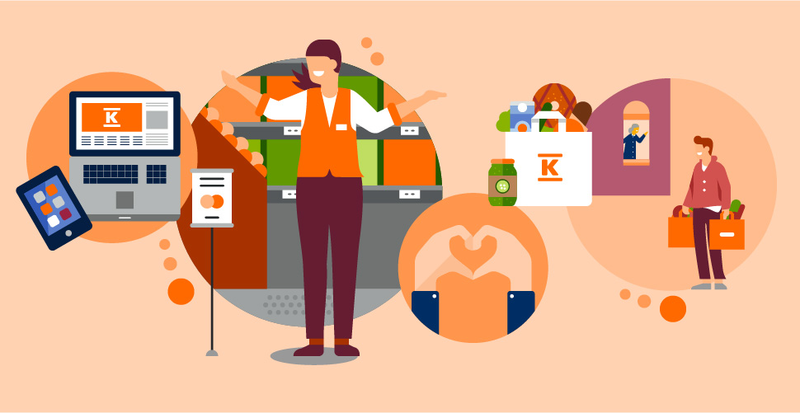 Our building and home improvement stores have also been busy, with people unable to travel turning their attention towards sprucing things up at home. However, some of Kesko's businesses have been hurt by Covid-19: sales in our foodservice business have fallen due to restrictions imposed on restaurants and events. Our car trade suffered from availability issues and weak demand in the spring, although car sales did pick up in the latter half of the year. There are also some businesses that have remained fairly unaffected by the virus, such as B2B sales in our building and technical trade, which account for 70% of the whole division's net sales.
All in all, 2020 has required a lot of work and effort from us, but has proved successful for Kesko, with our quarterly results beating one record after another. Despite the significant pandemic boost in some business areas, we estimated at our Capital Markets Day event in early December that less than half of our profit improvement in 2020 was attributable to Covid-19.
It's all about the strategy
One thing that remained constant this year was the foundation of our success, which continued to be our strong growth strategy. First established in 2015, our strategy has served us well and continued to do so also during this exceptional year. The strategy has led us to streamline our operations over the past five years, focusing on three core divisions under "one unified K" and carrying out more than 30 strategic acquisitions and divestments. As a result, the net sales of our core businesses have grown by over 3 billion euros since 2014. Our operating profit has improved steadily as well, and all the while, we have secured our cash flow and cost efficiency. Our strategy saw our market shares in Finland grow also in 2020 in grocery trade, foodservice, building and home improvement trade, and technical wholesale.
One day the virus will hopefully no longer dominate our every waking moment – what does that future look like for Kesko? We announced new medium-term financial targets at the beginning of December, as we were able to achieve the previous targets earlier in the autumn. Thus, we continue to see further room for growth and improvement.
When it comes to future success, we continue to rely on a familiar asset, our strategy. We want both our grocery and building and home improvement stores to adopt more widely store-specific business ideas that acknowledge local customer needs. We also want to improve customer experiences and the utilisation of customer data further.
In the grocery trade division, we will aim for even higher customer satisfaction, as we have seen how it correlates with higher sales. We will also strive to differentiate our grocery stores from the competition with products sold exclusively at K-stores and with our own brand products, which still account for a fairly low percentage of sales compared to our international peers. Eating out has been a growing trend for some time, and we expect that trend to continue and boost our foodservice sales once the pandemic has been defeated.
In the building and technical trade division, the total market in our eight operating countries amounts to 31 billion euros. The markets remain fragmented, and we therefore see potential for further growth and consolidation, especially in B2B trade in Sweden and Norway. Global megatrends such as urbanisation, energy-efficiency and the need to reduce emissions underpin the division going forward.
In the car trade division, our focus is on new products and services, such as electric cars, which are quickly growing in popularity. We will continue our good partnership with the world's biggest car manufacturer the Volkswagen Group. Kesko's car trade has a competitive dealership network and there is plenty of growth potential in the Finnish car trade market.
Kesko will also strive to reduce unit costs and improve cost efficiency further. This can be done with better utilisation of new technologies, increased use of automation, and by adopting more efficient processes. The challenges we have faced this year have forced us to re-examine our processes, and as a result, we have found many areas where we can improve also in upcoming years. Going forward, we will use investments to execute our growth strategy: in technology, in redesigning stores to improve customer experience further, and in acquisitions especially in the building and technical trade division.
We head into the future with a strong balance sheet that enables investments, acquisitions, and a good dividend capacity for investors who continue to believe in Kesko's share.
We want to thank all our shareholders for this year. We will publish our 2020 financial statements release on 3 February 2021, and our Annual Report in March.
Click here to see the presentations from our Capital Markets Day event held on 2 December 2020.