IR Blog: #KeskoDigitalHour offered a deep dive into our digital strategy and data utilisation
08.12.2021
Digitalisation has played a key role in Kesko's transformation in recent years. Our digital sales currently value some 1.4 billion euros, but we see plenty of further untapped potential for all three business divisions. On 1 December 2021, we held Kesko Digital Hour, a virtual investor event that focused on digitalisation and data utilisation, with presentations by Kesko's Chief Digital Officer Anni Ronkainen and Chief Financial Officer Jukka Erlund and a Q&A session hosted by Vice President of Investor Relations Hanna Jaakkola.

At the Kesko Digital Hour investor event, CFO Jukka Erlund and CDO Anni Ronkainen explained how data and digitalisation are used at Kesko to make internal processes more efficient and customer experiences increasingly better.
Digitalisation and customer experience are two complementary central themes in Kesko's strategy. In many areas, Kesko can be considered a forerunner in trading sector digitalisation, but we can still identify plenty of further untapped potential in digitalisation and data usage. Kesko's two key objectives in utilising digitalisation are to improve customer experiences and to increase the efficiency of our operations, and consequently bring costs down.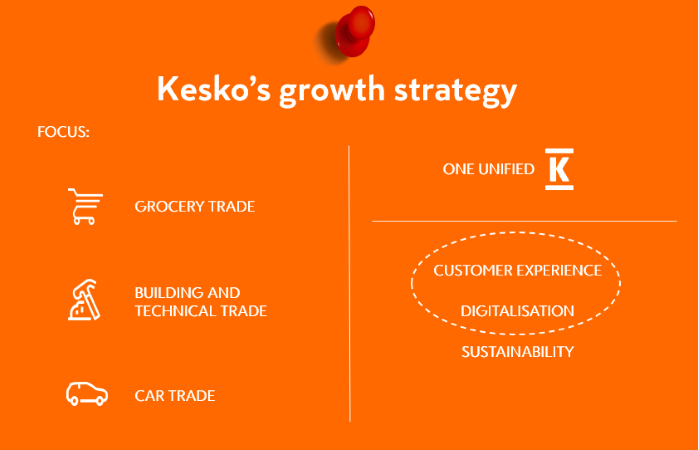 Kesko's CDO Anni Ronkainen emphasised the role of data in any discussion concerning digitalisation. Data is central to everything we do, and Kesko and K Group aim to become a truly data-driven organisation, where data, analytics and AI support our business at both strategic and operative levels and also create value for our customers. Ronkainen estimated that Kesko currently uses about 25% of its data, and said she expects the figure to rise to some 50% in upcoming few years, while at the same time data assets get better and opportunities to use data become more versatile.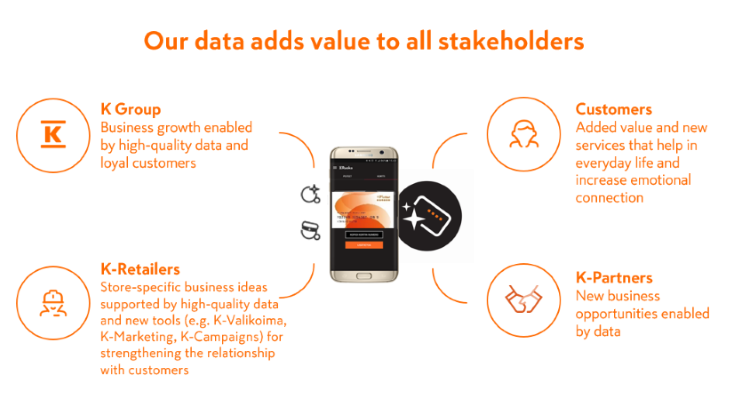 Kesko obtains data from various sources. In terms of customer data, in Finland we have at our disposal the vast data asset of our K-Plussa customer loyalty programme, which is in use in all three divisions. In a country of 5.5 million people, the K-Plussa programme has 3.3 million active customer members. In addition to using that data to formulate better selections and tailored store-specific business ideas, Kesko also returns the data to its customers in the form of various personalised services and recommendations.
CFO Jukka Erlund noted that digitalisation, data utilisation and technology have contributed significantly to Kesko's operations and performance – not just top-line driven sales growth, but also margins and cost efficiency. Our cost ratio has also come down substantially over the past few years.
IT and digitalisation drive efficiency on three fronts: realising synergies (common architecture, platforms and systems), increasing process efficiency and process automation, and utilising data analytics (data-driven business processes and decision-making).
In terms of capital expenditure, while investments in store sites remain the biggest CAPEX item, the importance of investments in digital and IT is constantly growing, with focus on building capabilities for data use, e-commerce, digital platforms, and a common core such as ERP systems. Marketing is also increasingly directed towards digital.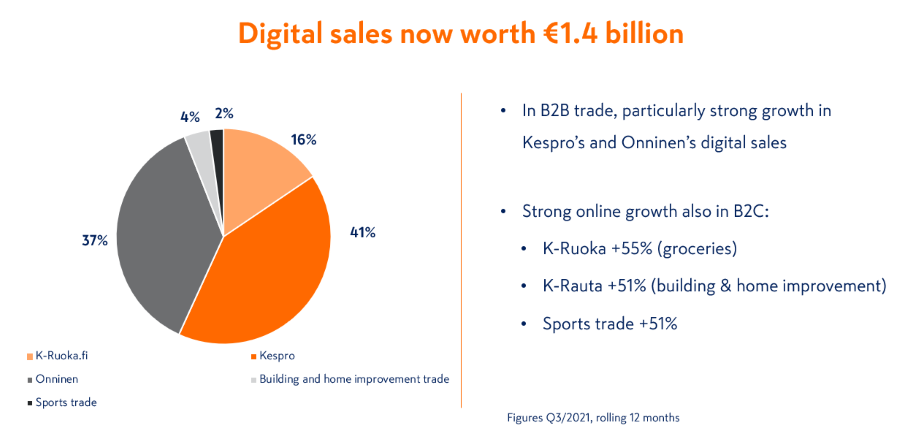 Digitalisation is a central part of the growth strategy of all Kesko's three business divisions. In the grocery trade division, there is a strong focus on further developing online grocery, where we expect sales to continue to grow and stay above pre-pandemic levels. Data is used to create tools and support decision-making regarding e.g. store selection planning and pricing as well as to help establish individual store-specific business ideas. Digital marketing screens increase the efficiency of in-store advertising.
In the building and technical trade division, the key issue is to tailor digital and online services and solutions for three customer segments with differing needs – technical professionals, professional builders and consumers. While professionals tend to value wide selections, enriched product information and reliable deliveries, DIY builders seek inspiration, clear instructions and competitive prices. Actions in building and technical trade are country specific, but synergies are sought between countries in IT and technology.
In the car trade division, the digitalisation journey is in its early stages and will play a vital role in the division's ongoing transformation process. Digitalisation will have a remarkable impact on all business areas, from booking servicing to new car sales and the purchase and sale of used cars, while also supporting back-office functions such as finance and IT. Digital is also an important customer acquisition channel for the car trade.
It is worth noting that B2B is a very important part of Kesko's digital sales, especially when it comes to Onninen's technical trade, where digital sales total €520 million, and the foodservice wholesaler Kespro, where over 80% of sales come from digital channels.
See also: IR blog - Kesko's Chief Digital Officer Anni Ronkainen trusts data to tell us how to make customers happy