IR blog: Is there further potential for growth in Kesko's grocery trade going forward?
27.08.2021
Ari Akseli began his sales career selling wooden ladles door-to-door at the age of six. He has been at Kesko for 26 years, and has headed the biggest of Kesko's three divisions, grocery trade, for nearly four. Here, Ari and Kesko's Vice President of Investor Relations Hanna Jaakkola discuss the competitive advantages Kesko has on the fiercely competitive Finnish grocery trade market, from an extensive store network to store-specific business ideas tailored to meet local demand, as well as the challenges related to grocery trade going forward.
(The discussion is available in Finnish as a podcast here).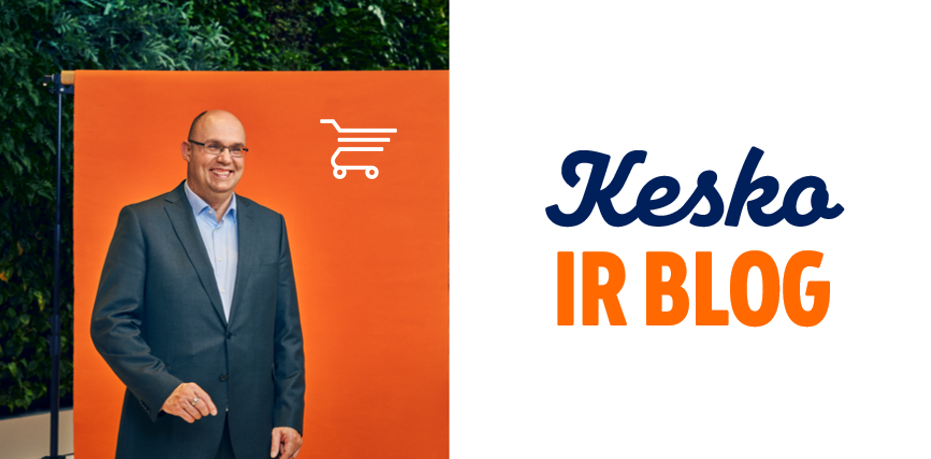 Kesko's grocery trade division has performed very well in recent years, especially during the pandemic. Many investors are now wondering if there is still room for further growth. Ari Akseli sees further growth potential, as Kesko's strategy has proven effective, and people have shown that they want to buy better, high-quality food. Kesko's grocery trade has been able to upgrade the level of products sold, for example, selling Roman-style pizza instead of flour and tomato sauce.
Adjusting to the pandemic and implementing store-specific business ideas
Akseli is not ready to give the pandemic all the credit for Kesko's excellent performance in recent years, noting that in the short term, it actually had a negative impact on his division's performance, as Kespro's foodservice operations were hit by the restrictions imposed on restaurants and events, and the rapid surge in online grocery sales – which grew by a whopping 1,000% in spring 2020 – required heavy investments to ensure K Group's grocery stores could meet the enormous increase in demand.
"We were able to adapt to the situation quickly and successfully adjust our selections and operations and create safe shopping environments. However, the biggest thanks for our excellent performance goes out to our staff and customers, who enabled the successful execution of our long-term strategy," says Akseli.
There is also further potential in store-specific business ideas, which help each store to tailor their selections and services to meet local customer needs. This is not a simple task, as K Group's grocery stores serve some 1.2 million customers daily and have more than 2,000 active suppliers with new products that can total as many as 30,000. However, the successful implementation of these business ideas has seen sales of existing stores grow significantly.
(For a more detailed discussion on store-specific business ideas, see our recent IR blog post)
Extensive online selections and a wide network of local stores offering online services
Following the surge in demand during the pandemic, Kesko now controls over 50% of the Finnish online grocery market, with high online customer satisfaction (NPS above 80). Compared to 2017, Kesko's online grocery sales are 20 times higher. However, competition is tightening, with new operators entering the market – will Kesko be able to hold onto its No. 1 position in online grocery?

Ari Akseli insists that Kesko sees the tightening competition in the online grocery business as positive, spurring it on to develop its own operations further. He does, however, believe that Kesko has certain competitive advantages in its favour, namely the wide network of local stores offering online services – which helps to resolve the issue of the costly "last mile" – and the extensive selections K Group can offer its customers online.

Unlike online-only operators, K Group can provide people everything they want from a grocery store in one go: "A customer may write in their order form 'I'd like some sushi, preferably nigiri' and we'll put together a nice fresh plate for them. That is not something you can easily do in a dark store," Akseli explains.
Fresh sushi has been a huge trend in Finnish grocery stores in recent years. Sushi is also part of the extensive online selections offered by many K Group grocery stores.
Kesko thus sees the seamless combination of its online and physical stores as a winning concept, enabling it to meet all customer expectations and offer extensive selections while keeping costs of delivery from local stores lower. Over 50% of customers also say that they want to collect their online shopping from their local grocery store when it best suits them – K Group's model also enables this.
(Read the new Trademaker blog post to find out more about K Group's efforts to develop its click & collect grocery services)
Grocery store + restaurant = grocerant

The aspect of grocery trade that excites Ari Akseli most at the moment is the rise of grocerant solutions:
"The line between restaurants and grocery stores is becoming increasingly blurred, and we are constantly seeing exciting new examples of this in our stores. There are both our own innovations as well as collaboration with a with a wide variety of restaurants, and demand in this area is constantly growing."