Jorma Rauhala, President of Kesko's building and technical trade division: "We have great potential to continue profitable growth"
27.09.2021
This has been a successful year for Kesko's building and technical trade division. "Our growth has continued strong and all our chains in all our operating countries are making a profit," says division President Jorma Rauhala.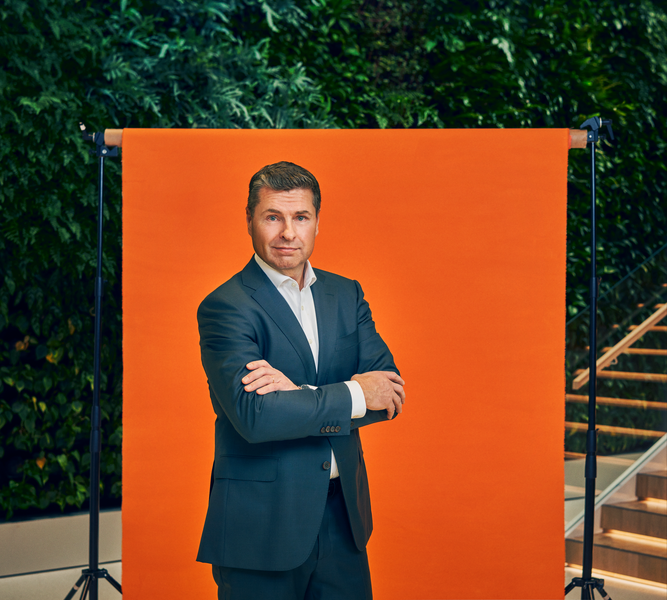 In the first year-half, net sales for Kesko's building and technical trade division grew by 13.2% in comparable terms, while the division's comparable operating profit grew by €69.5 million. "We have reached our previously set operating profit target levels and are now among the best in Europe. All our chains in eight countries are making a profit," says Jorma Rauhala.
In Finland, both K-Rauta and Onninen continued to perform strongly in H1, as reflected by their market share, sales and profit figures.
In Norway, the first half of the year was very strong for both Byggmakker and Onninen, and profitability rose to a whole new level. In Sweden, there has been a marked turnaround and Rauhala considers the current situation good: "We will continue to grow the sales and improve the profit of K-Bygg, K-Rauta and Onninen in Sweden. The acquisition of Byggarnas Partner, announced in July, further strengthens our position in the country."
Sales and profit have also been growing in the Baltics and Poland, and Rauhala sees good growth potential in all four countries
"We have a clear growth strategy that is yielding results. We have fared very well under exceptional circumstances, often outpacing the market. We have every opportunity to exploit possibilities also going forward, as we operate in a strongly growing sector. The renovation needs of homes and other properties, the growing infrastructure investment debt, and energy-efficiency related requirements in construction will see our market grow further."
More than half of the building and technical trade division's sales today come from outside Finland. Strong country-specific focus has proven to be the key to success: "It is crucial for our division, as circumstances vary significantly from one country to another. It is therefore important to have a clear individual strategy for each country and business. Our K-Rauta and Intersport chains in Finland operate under the retailer business model, while elsewhere we employ other business models."
The division is constantly looking to share good examples in all countries and businesses, and also seeks synergies both within and between operating countries.
Most recently, global availability issues have made life more difficult for building and home improvement stores and sports stores. In building and home improvement, this has been particularly evident in product categories related to wood, metal and plastic. How are we prepared for future challenges and what have we learnt?
"For one thing, the role of pre-orders has become significantly more important, especially with imported goods. Advances on purchases need to be made somewhat earlier, and it is important to commit to them," says Rauhala.
The division's strategy continues to emphasise growth, profitability and synergies. As new strategic focus areas, Rauhala mentions proactive sales and sales management and improving digital customer experiences further: "During the autumn, we will also establish a division-specific sustainability strategy, which will define our future sustainability targets and actions for each country and each chain."
Heavy investments will be made in digital services: "Our division is already strongly present in digital trade, where our sales amount to nearly €560 million," explains Rauhala. However, there is a need to make digital purchases even easier for customers and digital operations more efficient: "We must offer digital services for all customer segments and in all chains to ensure a competitive advantage."
The division's outlook has improved compared to last year's forecasts, although there is still uncertainty related to upcoming years: "Forecasts suggest that the trend in construction will continue moderately strong in all our operating countries. We expect good activity in construction and consequently busy times for our B2B trade in particular," says Rauhala.
Meanwhile, he expects the B2C business to stabilise following the pandemic surge, as people begin to travel and spend more money outside their homes again: "Already this year, our growth has come especially from B2B trade, which now accounts for over 70% of the division's net sales, and that percentage is constantly growing."
The leisure trade business at Kesko operates under the building and technical trade division. Going forward, it will focus on sports trade: "We updated the strategy for leisure trade and decided to focus solely on sports trade. As a result, we decided to discontinue our shoe store chains The Athlete's Foot, Kookenkä and Kenkäexpertti, and focus on the Intersport and Budget Sport chains," says Rauhala.
He admits the decision was not easy: "Nonetheless, under the circumstances we were able to handle the situation as well as possible, emphasising a store-specific approach and close communication with the retailers."
According to Rauhala, the sports trade business will be developed in accordance with Kesko's growth strategy: "We are excellently positioned to do so. The new focus on sports trade is reflected in our figures, as our sports trade operations performed very strongly in the first half of the year and we won over market share to a significant extent."
The current situation, in which each country and business is stable and in profit, increases the division's possibilities of developing operations and raising the bar further, Rauhala believes. It also offers great possibilities for targeted acquisitions: "We have great potential to continue profitable growth in Northern Europe – currently our market shares in Norway and Sweden, for example, are still fairly low."

"We have a clear growth strategy that is yielding results. We have fared very well under exceptional circumstances, often outpacing the market. We have every opportunity to exploit possibilities also going forward, as we operate in a strongly growing sector. The renovation needs of homes and other properties, the growing infrastructure investment debt, and energy-efficiency related requirements in construction will see our market grow further."
TEXT: Kirsi Suurnäkki-Vuorinen
Originally published in the Kehittyvä kauppa magazine of K-Retailers' Association on 23 Sept. 2021