Over the past two decades, batteries and accumulators have become an integral part of our daily lives: most of our devices run on them. At the same time, technological development has enabled the use of smaller but more powerful accumulators in smart devices and vehicles, for example. The need for accumulators and their raw materials is expected to become so high that the existing mines will not be able to meet our needs.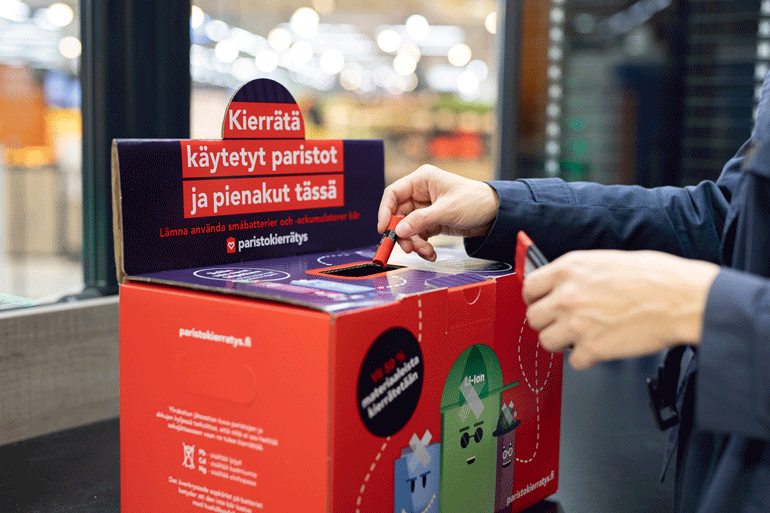 Reason 1: the environment and sustainable materials. Of all the materials contained in batteries and accumulators, 50–90% are recycled to be used in other products. Cobalt, for example, is an important material for accumulators, but is found in Europe in such low amounts that it is mainly quarried in Congo, often in primitive conditions. The use of recycled nickel saves up to 75% energy compared with quarrying virgin material. Even if there is no shortage, new uses can be found for the materials contained in batteries through recycling. For example, organic fertilisers made in Finland from discarded alkaline batteries can be used to nourish soil impoverished by intensive farming.

Reason 2: safety. Densely packed energy also involves risks. Energy can be released accidentally if an accumulator is impacted, or the poles of batteries come into contact with one another. Such situations can easily be avoided by handling accumulators with care and covering the poles of batteries and accumulators with tape once they have been removed from use. This also prevents the accumulators from being recharged accidentally, which is important, because the recharging of a damaged accumulator, or one that has not been used in a long time, can cause an internal short circuit.

Reason 3: ease of recycling. Batteries and small accumulators can be recycled conveniently at all K chain stores that sell batteries. Larger accumulators (from electric bicycles and mopeds, for example) can be taken to the nearest collection point. More information is available at kierrätys.info.

Start helping the environment today: collect your used batteries and accumulators, cover their poles with tape and recycle!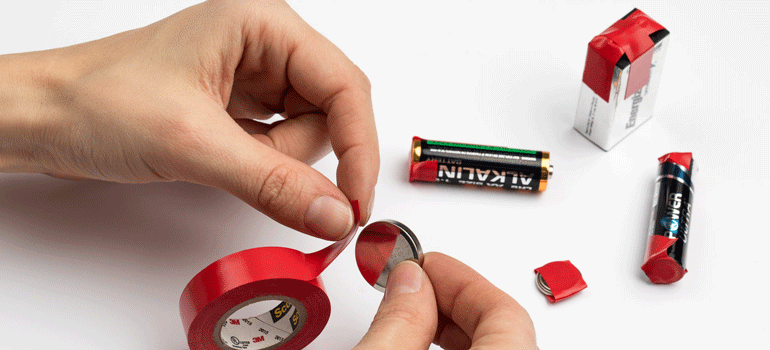 Liisa-Marie Stenbäck, Managing Director
Recser Oy
The coronavirus pandemic has increased interest in home emergency supplies. The Finnish Martha Organisation has provided advice on home emergency supplies for years, but the number of visits to the stockpile section of the Martha Organisation's website multiplied over a short period of time in 2020. Visits increased from around 9,000 in 2019 to nearly 146,000 in 2020. Preparedness and home emergency supplies have been discussed widely by the media and various organisations.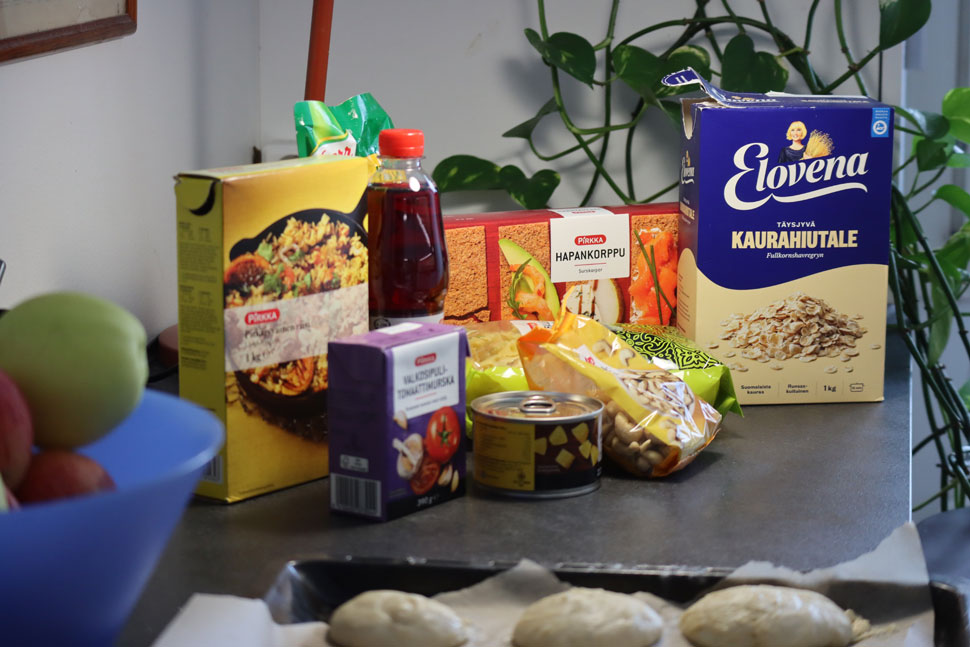 This spring, however, the number of enquiries received by the Martha Organisation has been lower than a year ago. Does this mean that we are less concerned after having survived last spring? Or does it mean that we are better aware of the significance of home emergency supplies?
Although I hope and believe that the latter is true, the meaning of home emergency supplies continues to be somewhat unclear, especially to younger urban dwellers. It means that every household should have a supply of food and drink for 72 hours for the whole family. This recommendation has been issued in cooperation between the authorities and organisations. Home emergency supplies are for when shopping trips are out of the question because of exceptional circumstances, such as quarantine, illness or power outages.
Home emergency supplies are not a permanent stock of food. They consist of the food products that are normally used in the household. In other words, the home emergency supplies change all the time. The 72-hour supply should be kept in mind when restocking the fridge and cupboards. Home emergency supplies should consist of the ingredients and food products that are regularly consumed in the household. This eliminates food waste by preventing expiry, and if the emergency supplies need to be used, familiar food products make the situation easier.
Home emergency supplies may include fresh fruit, vegetables, root vegetables and tinned food. Crispbread and crackers are the types of bread with the longest shelf lives. Nuts, seeds, jam, cereal, muesli, flakes and juices also have long shelf lives and will be used as part of daily life before they expire. Home emergency supplies can also include tinned beans or lentils – as well as Finnish freshwater fish, which is a smart choice otherwise. It is important to take into account any special diets and allergies.
In addition to food, home emergency supplies should include drink – that is, bottled water and other beverages. Each household should also have an extra supply of bottled water in case of power outages or water supply problems.
The pandemic will end sooner or later, but home emergency supplies will continue to be relevant. We must be prepared for exceptional circumstances caused by climate change in the future, for example. At the moment, we are troubled by the coronavirus pandemic, but there will be a time when we will look back to see what we have learned. Perhaps more people will become aware of the importance of home emergency supplies. This will improve our resilience to survive exceptional situations also in the future, no matter how challenging they are.
Emmi Tuovinen
Development Manager
Martha Organisation
I understand this phrase better than ever now that I have spent just over half a year in my new job at the Ronald McDonald House Charities in Helsinki. The best and at the same time most touching moments of my job are hearing the stories of the families living here with us in the Ronald McDonald House. Our beautiful timber-framed houses, which are over 100 years old, are located right next to the New Children's Hospital in the Meilahti wooden villa area.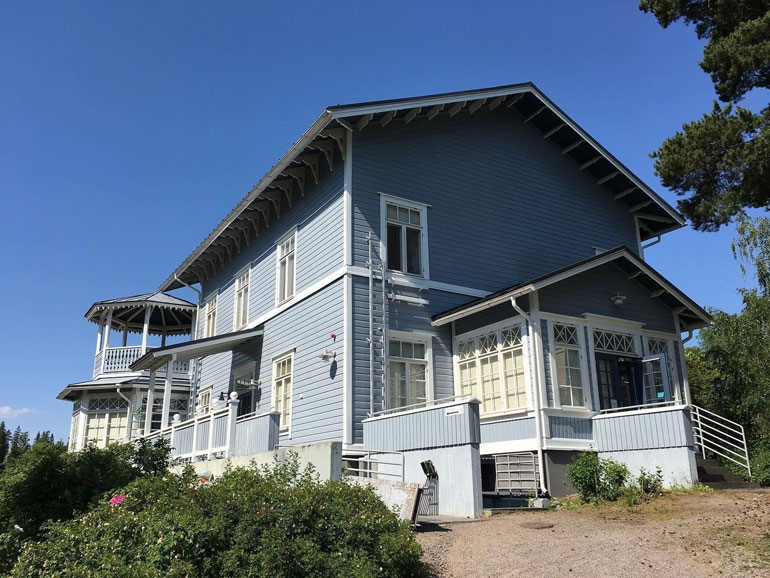 "Children need their parents the most when they are in hospital," said Jari Sinkkonen, M.D. Senior Consultant Psychiatrist, when he visited us last October. We make this possible for families. All of the most demanding specialist treatments for children are carried out at the New Children's Hospital in Helsinki, and some people have to travel very long distances from all over Finland.
For our operations to be possible, we need the help of companies to support our important work, which includes financial support. Social responsibility is responsibility that is shared between the welfare state and companies. Responsibility is always easier to shoulder together and it is wonderful to experience together the feeling of significance that you get when you see in reality all the good things you have achieved for someone else. We do not receive any government funding for our operations, at least not yet.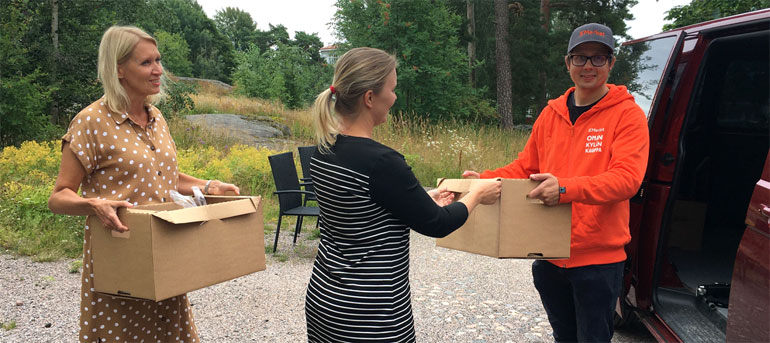 Together with Olli and Taru, the retailers at K-Market Töölöntori, we now make the lives of families much easier by taking care of food shopping and delivering it to the houses. There is no food store near the houses, and often there is only one parent staying here at the house with the child while the other parent is at home with the siblings. This cooperation is even more important for the families because the deliveries are free of charge. When families have to spend many months here with their child, it often also affects their finances.
Social responsibility is always a good deed, but these deeds do not just happen, someone has to do them!
Johanna Huhtariihi
Executive Director, Ronald McDonald House Charities