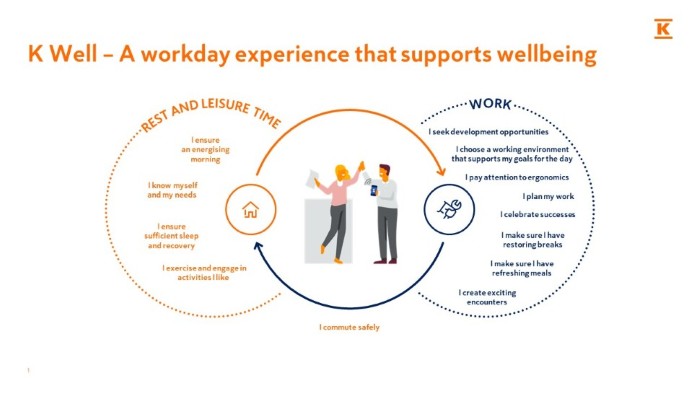 A good employee experience ensures quality and an excellent experience to our customers as well.
The well-being and occupational safety of our personnel is guided by common principles in all our operating countries. Our bottom line is that K Group personnel must have a safe working environment, be able to do meaningful work and have opportunities to develop their competencies on an ongoing basis and that the quality of leadership in the group is high.
The K Well operating model enhances the opportunities of every K Group employee to influence their well-being in various ways. Personnel wellbeing is supported with different operating models, well-being programmes and well-being coachings. We continuously invest in working capacity management and supervisor coachings. We have set clear targets for well-being and occupational safety and monitor the progress systematically.
Listening to the personnel; Continuous development of employee experience
K Voices personnel surveys and pulses are our ways of systematically listening to the experiences of the personnel and measuring the quality of leadership. We utilise the results to develop methods for creating an ever better employee experience.
K Voices personnel survey is conducted in Kesko Group and some K-stores at the same time. The personnel survey addresses such matters as personnel commitment, the personnel's experiences on management work, performance enablement, well-being and psychosocial load. Based on the survey results, the teams prepare an action plan with suggested development measures and, where necessary, are provided with support to develop the way they work. Personnel pulses are used to monitor progress on the themes requiring development, based on the previous survey. They support listening to the team members on an ongoing basis and everyday managerial work by immediate managers.
A healthy and accident-free workplace
We place a lot of importance to the development of labour protection and management of occupational safety, and we reinforce this by harmonising our operating models in occupational safety management. Our goal is an accident-free K Group, supported by Kesko's membership in the Zero Accidents forum. Onninen's Finnish operations were among the first companies to have the new ISO 45001 standard successfully certified.
Our own occupational safety unit and our partners in the field are engaged in goal-oriented preventive work to promote the health, well-being and safety of our personnel, in close collaboration with the businesses. At Kesko, occupational health care is arranged in compliance with local laws and practices. Kesko's occupational health provision in Finland is comprehensive, including activities that support working capacity and promote health. Kesko offers its personnel in Finland a more extensive medical care than required by law.
Principles of occupational safety: