Marika Karppinen: Today's trash can be used to wash tomorrow's dishes
22.05.2019
You drop off plastic waste to a recycling point at the grocery store, then buy cleaning supplies made from recycled plastic in the store. The future? No, present day reality. Sinituote gives a new life to Finnish plastic waste by turning it into new cleaning supplies that last for years.

Environmental load and the increase in plastic pollution are global issues that we can all help mitigate by making the right choices. Plastic packaging must be recycled, and circular economy enables the reuse of plastic materials. Plastic currently has a bad reputation, but used correctly, it is an excellent material. Circular economy comes to full circle when a product made from recycled plastic is taken into use.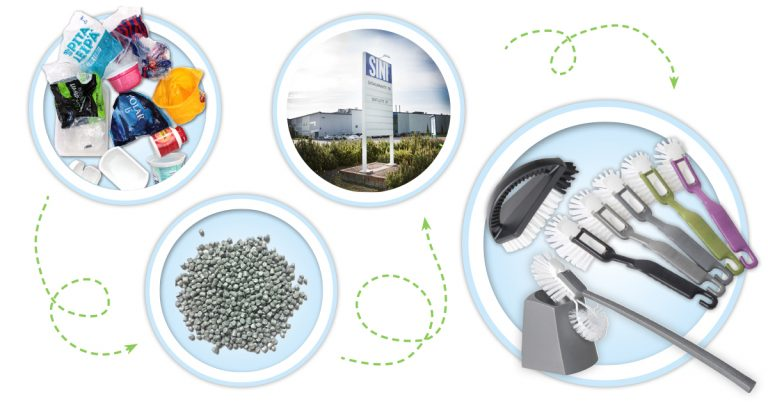 The Finnish cleaning supplies manufacturer Sinituote has been developing ways to increase the use recycled plastic for years now. The company is a forerunner in the use of recycled plastic – our target is that by year 2021, 30% of our plastic raw material is recycled plastic. Currently three commonly known products are already made from recycled plastic: the SINI dish brush replacement heads, toilet brushes and lint rollers.
Cleaning supplies made from recycled plastic are just as durable as those made from regular plastic. For consumers, the use of recycled plastic also means product prices do not go up. We all have a genuine possibility to make a difference and take environmental action by recycling our plastic packaging and choosing products made from recycled plastic.
Used correctly, plastic is an indispensable material. Effective recycling of plastics and good design of plastic products will continue to be key factors in reducing the environmental impacts of plastic, something Sinituote wants to embrace fully.
Marika Karppinen
Product Manager, Sinituote Oy