According to Wikipedia, a Christmas gift or present is an object given to a friend or relative at Christmas. The same source says that charity gifts, launched in Finland in 2005, make alternative or ethical gifts.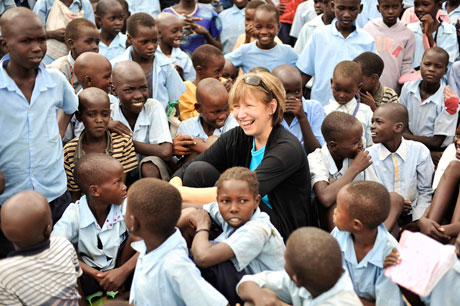 An ethical gift has already an established position as a present at Christmas time in particular. Such a gift is an appreciated option to be given to friends and relatives who already seem to have everything. It is also an ecological alternative in the exuberance of Christmas.
For myself, giving and receiving an ethical gift has always included a message indicating that the recipient is an important and special person who shares my thoughts and values. An ethical gift gives heart-felt joy for my friend and me, while providing, above all, real help for the child, the final recipient of the gift.
A UNICEF gift is unique in a sense that whether you donate a football, vaccination pack, mosquito net or water pump, UNICEF delivers the product wherever it is needed the most.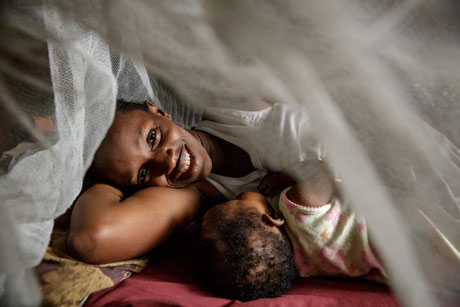 Issata Sow and her four-month-old daughter Davida Batu can rest undisturbed under a mosquito net in Freetown, the capital of Sierra Leone, in September. Picture: © UNICEF/SLRA2013-0288/Olivier Asselin
This year your gift may, for example, go to the Philippines, where more than five million children suffer because of the destruction caused by the typhoon. They need clean water, food, medicines and school supplies in order to stay alive and continue with their normal lives.

Or your gift may end up to the children who have been affected by the Syrian war and whose lives are in danger when the winter comes. Together with its partners, UNICEF delivers emergency supplies to Syria and nearby areas to keep children healthy. In addition to winter clothes, Syrian children need blankets and toiletries.
A UNICEF gift adds to your Christmas a feeling that you have given one child the most important present in the world. That somewhere in this world a small child with his or her siblings can go to sleep under a mosquito net donated by you, feeling safe. They have learned that the net protects against mosquitos spreading malaria. Now they are able to sleep undisturbed, just like any child should. And you and your friend will have a real Christmas feeling.
You can buy a UNICEF gift at www.uniceflahja.fi and at sales points of local UNICEF groups throughout Finland. There are 23 gift options in all, from a five euro football to a 392 euro water pump. Companies can also present their important customers and stakeholders with a gift that is not useless. When a company makes a donation through us, a child or family in need of help gets a gift which cannot be measured in money. Further information (in Finnish) at www.unicef.fi/fiksulahja .
Writer is Marja-Riitta Ketola, Executive Director of UNICEF Finland.