Last year was the K-Group's 100th anniversary year. As part of its celebration, K-retailers and the K-Retailers'Association initiated cooperation with the Finnish Association on Intellectual and Developmental Disabilities (FAIDD). The project, dubbed "Many Kinds of Performers", was aimed to offer paid employment to people with disabilities who are easily excluded from the open labour market. Disabled people and people with partial work disability are not equal with other job seekers although discrimination is against the law. Disabled people need work coaches to support and help them in work related matters.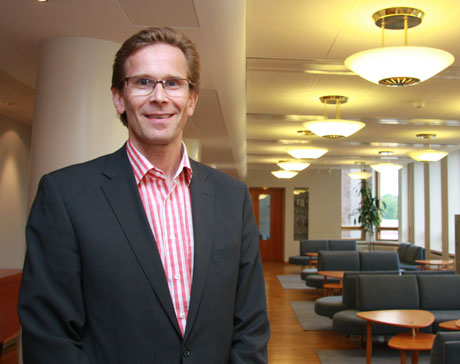 In the project, a work coach was hired in FAIDD to facilitate K-retailers and disabled people willing to take a job meeting each other. The recruitment of a person with a disease or a disability is carried out in cooperation with TE-services (Employment and Economic Development Services), Kela (the Social Insurance Institution of Finland), social services/disability services, work coaching and tax administration. Employment easily becomes a bureaucratic jungle of different application forms and practices varying between different parts of Finland.
The work coach of the project acted as an "information centre" between all parties in order to make employment as smooth as possible. Unfortunately in practice, the other side of the coin became visible: although the employer was ready to hire a particular person, bureaucracy sometimes delayed the process so long that in the end, employment did not take place.
Obstacles bigger than bureaucracy in the employment of people with disabilities are attitudes which K-retailers began to tackle. The project was not carried out with emphasis on disability. Instead, a suitable recruit with the right attitude, willingness to be employed and to be part of the K-Group was sought for a job on offer. Thanks to the project, 27 people with disabilities found a permanent or a fixed-term paid employment in a K-store.
In Finland, around 350 people with disabilities are working in paid employments in different fields and the number has remained unchanged for many years. In slightly over a year, the active and unprejudiced approach of K-retailers enabled a substantial rise in that number. The professional work coach also played a significant part in the successful outcome.
Today, finding a job is not easy whether you have a disability or not. Youth unemployment is afflicting the whole of Europe, not least in Finland, where the continuously rising youth unemployment rate is really worrying: at present, around 40,000 young people between 15-24 years of age are without a job.
Encouraged by the project "Many Kinds of Performers" Kesko and K-retailers joined the Youth Guarantee effort by launching a project of their own as part of the K-Group's responsibility work. The project is based on the same operating model as in employing people with disabilities but with a wider scope of options. For example, wage-subsidised work, trial work, apprenticeship and recruitment specific training are employment alternatives included in the K-Group's Youth Guarantee.
The project hired a coordinator to communicate information to Kesko supervisors and K-retailers on the ways in which young people can be employed by the K-Group and the forms of support available for that purpose. In addition to information, the project is supported by the K-Group spirit, responsibility and willingness to employ young people.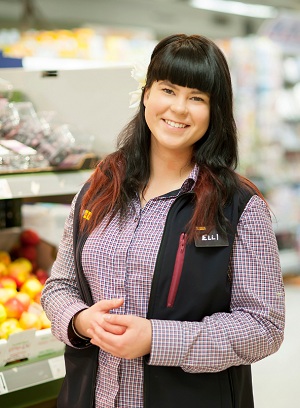 Elli Mäki was employed with the help of the Youth Guarantee project and she works at K-market Himanka.
Photo: Henri Sikkilä
The writer, Ari Svensk, is Kesko's Vice President for Human Resources and Managing Director of K-instituutti Oy.
This article is part of the Finnish Government's Working Life 2020 project aimed to make Finnish working life the best in Europe by 2020.