Live more comfortably, save money and take care of the environment!
Sami Aalto | 03.10.2011
Ten completely ordinary Finns discuss the climate change. Seven of them say that they are ready to reduce their own consumption in order to curb global warming. Some argue that actions of individual persons do not matter, but six think that small things go a long way when done by everyone. Half of the group have already changed their behaviour and consumption.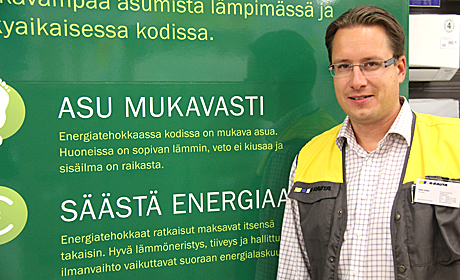 K-rauta retailer Sami Aalto
Few people know that housing accounts for over 30% of each Finn's carbon footprint. This is more than emissions from traffic, for example. In Finland, houses certainly need to be heated in winter. Most of the energy consumption in housing can be attributed to heating the dwelling and service water as well as to ventilation.
High targets have been set to cutting energy consumption in housing. During this decade, consumption should be reduced by nearly one third, and the objective set for 2050 is as low as 25% of the current level.
Regulations guide to building energy-efficient new houses. Measures concerning old houses include higher energy taxes and subsidies granted for related repairs. It remains to be seen what means state authorities will adopt in the future. At any rate, it seems improbable that the price of energy will drop in the years to come.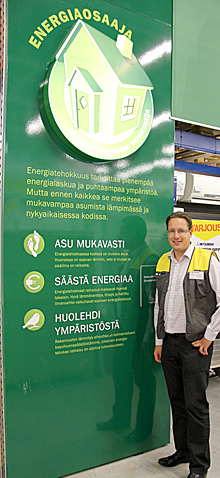 While a new passive house does not consume much, old one-family houses are instead energy-hungry. There is huge potential for repairs, as there are nearly one million one-family houses built before 1990 in Finland. Houses certainly differ from each other but most of them have much room for improvement in terms of energy consumption.
Heating costs can almost be halved by replacing electric or oil heating with ground heat. In Finland, solar collectors can be used to heat up water for up to half a year.
Additional insulation and new windows cut energy consumption by 30%, an air supply unit with heat recovery by some 15% and an air heat pump by some 25%. When consumption drops, money savings grow in the same relation, which makes the investment really worth it.
Besides saving money and the environment, repairs made to cut energy consumption in housing also significantly improve living comfort of an old house. Investment in repairs also always increases the value of the house and makes selling easier.
K-rauta stores offer you an energy survey and a thermographic camera inspection which will show what should be first done in the house. K-rauta stores provide you with all products for energy renovation, ranging from weather-strips to ground heating systems, including installation in most cases. Forget about woollen socks and come to K-rauta to discuss how to improve the energy-efficiency of your house.

The writer is a K-rauta retailer from Raisio (www.k-rauta.fi).