Are culinary competitions worth it?
Nils-Gustav Höglund | 13.12.2011
Everybody doesn't know yet that besides national sports teams, Finland has also a national culinary team - "Culinary Lions" as the team of the eager and skilled young chefs is also called.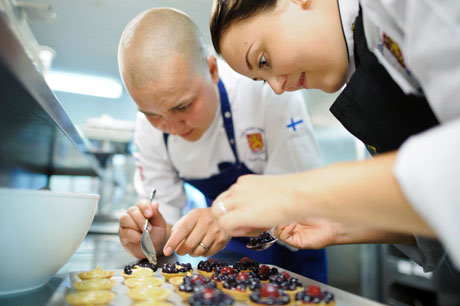 K-food stores with their Pirkka products and Kespro with its Menu products have started cooperation with the Culinary Team of Finland. For years, K-food stores have been building the Finnish food competence and culture, and the cooperation with the CTOF will provide opportunities for this.
The growing interest among Finns in cooking is also reflected in interest in the culinary team of Finland. The next World Culinary Olympics will take place in Erfurt, Germany in October 2012.
The actual goal of the Finnish team is the following olympics, to be held in 2016. By that time, our young team will have built us their skills to compete for the victory and to take Finland to the gastronomic map of the world.
So far Finland has had to stand by as our Nordic neighbours have repeatedly grabbed gold in various culinary competitions. The example set by our neighbouring countries shows that culinary competitions can provide an incentive to success, as long as the other requirements are met.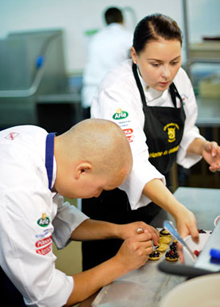 Finland has a history of five decades in the Culinary Olympics. Many well-known chefs, such as Aki Wahlman, Antti Vahtera, Markus Aremo and Pekka Terävä, represented Finland in these games during the early years of their career. Culinary competitions have been worth it.
The powers behind the current team are the Finnish Chefs Association and Nordik Holding OÜ. They aim to create such opportunities that team members can practise free from financial worries.
Most often the members of the Culinary Team of Finland practice alongside their own jobs, working hard to succeed in the competition. A good physical and mental condition is a must as the teams have to work for 36 hours without a break at the competition.
Creating tasty and impressive portions is not enough to bring a victory. The unique Finnish design will be visible on the chefs' festive tables. An important duty of the team is to act as an Ambassador of the whole culinary Finland outside the competition, too.
And here comes responsibility into the picture. When conjuring up skilful dishes, young chefs cannot forget about everyday cooking. According to the rules, the team will inspire the Finnish nation by sharing inspiring and simple cooking knowledge, recipes, tips and advice. In this duty, cooperation with the Pirkka products and Kespro is of primary importance.
The new gastronomic centre of Finland is located in Raasepori. The town has provided the team with facilities where to practise as well as visibility in various events. President Martti Ahtisaari is the patron of the team and has also been their guest.
Writer Nils-Gustav "Nile" Höglund is the Project Manager of the Culinary Team of Finland.