IR blog: Advanced digital services support growth and success in Kesko's building and technical trade
14.06.2022
Kesko's building and technical trade division has been very successful in recent years. This is mainly due to the growth strategy specified in 2018, which has proven successful under varying operating conditions. Advanced digital services and solutions support the division's success story by enabling better customer experiences and by making operations more efficient. They must cater to the differing needs of three customer segments, but can be developed and leveraged for use in all of the division's seven operating countries.



Kesko's Vice President of Investor Relations Hanna Jaakkola discussed growth and digital service development in building and technical trade with Johanna Kontio, who is the division's Senior Vice President of Concepts, Stores, Digital Services & Sales Support. The discussion is available as a podcast in Finnish.
Digital services and solutions in building and technical trade extend beyond online shopping
Kesko's building and technical trade chains have their own online stores, and Kesko is a significant player in digital sales in the sector. However, Johanna Kontio notes that the division's selection of digital services extends far beyond just selling products online.
In addition to digital services and solutions that make shopping easier for customers by e.g. allowing them to scan the products themselves at the store, there are also solutions that help the sales staff in their work, thus allowing them to focus more on customer service. Digital solutions have also been developed to make logistics processes more efficient.

The share of B2B trade constantly growing: digital services must cater to the very differing needs of both construction professionals and consumers
The building and technical trade division serves three customer segments: consumers account for some 20% of the division's sales, while professional builders and technical wholesale professionals account for nearly 80% of the sales. The needs of the three customer groups differ considerably, and this must be acknowledged in both physical stores and digital services. For example, professionals value efficient logistics and invoicing processes, while consumers seek inspiration for decorating and renovation. All customer groups value wide selections and having product information and instructions accessible online.
Johanna Kontio notes that digital development in Kesko's building and technical trade division is based on in-depth research on customer needs and priorities. Customer satisfaction is systematically monitored, and the results have been very positive. For example, the NPS indicator for Onninen's online store was 75.5 at the end of 2021, and overall, customers see good digital services as a strength for K Group's building and technical trade.
Digital and concept development enable synergies between the operating countries
Building and technical trade is the most international of Kesko's three divisions: while grocery trade and car trade operate in Finland, building and technical trade operates in Finland, Sweden, Norway, Poland, Estonia, Latvia and Lithuania. Net sales from operations outside Finland totalled some €2 billion in 2021. Expansion in Northern Europe is also the biggest potential growth driver for the division.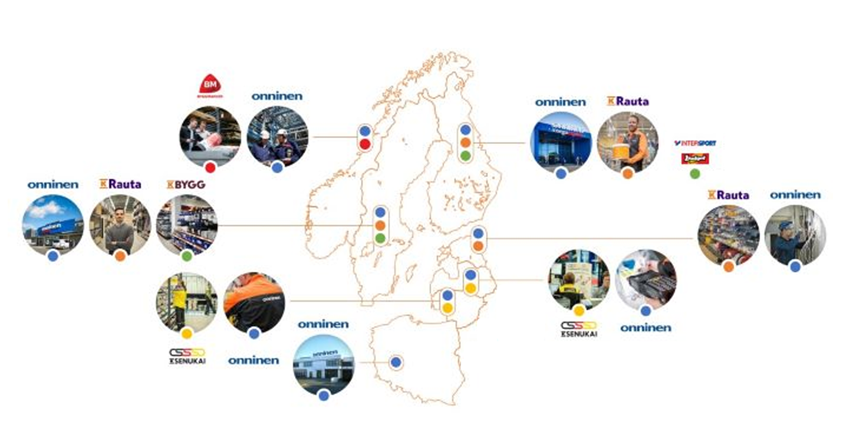 Each of the operating countries has its own growth strategy, but Kesko also seeks synergies both within and between the countries. According to Kontio, synergies are sought in areas such as concept and digital service development. This involves, for example, using the same e-commerce platforms in different countries. Another important source of synergies across countries are the division's own brand products.