Mira Jarkko: The Climate Partners network is searching for new ways to mitigate climate change
Mira Jarkko, Climate Partners network | 23.03.2015
When I started my environmental studies at the University of Helsinki 25 years ago, I felt quite sure that I had come to the right place. On the very first day, we were told that we will become some kind of interpreters, building bridges between the representatives of different disciplines. It was important for us to learn to understand different approaches and perspectives to environmental issues and also apply criticism. Environmental problems cannot be solved with science only.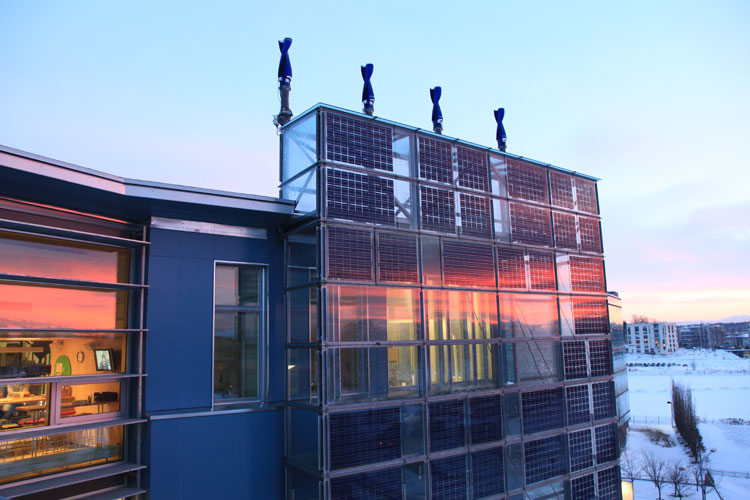 The Viikki environmental house is the most energy efficient office building in Finland. We started storing solar energy last summer and have been using it to recharge an electric car. The experiment was developed in cooperation with Climate Partners.
Climate change affects everybody
Now, 25 years later, my job is to coordinate Climate Partners, the cooperation network of the City of Helsinki and businesses, joined by 45 members during the past two years. The network comprises big and medium-sized companies of various sectors, universities and research institutes and, naturally, the City of Helsinki. Together with Helsinki Mayor Jussi Pajunen, all of them have signed their own commitments for the mitigation of climate change. In addition to the commitments, the network aims to conduct joint concrete experiments and projects to mitigate climate change. I feel very much at home in this network.
Today, cooperation between different sectors to curb or adapt to climate change goes without saying, or at least it should. Climate change has an increasing impact on business prerequisites. Investors' belief in the profitability of fossil fuels is decreasing. Consumers vote with their purchasing decisions. Many of us ordinary people have a pang of conscience when passing shelves of organic meat when we know that domestic organic production should be supported. On the next payday, I promise myself – the price does matter.
Big changes are created together
No actions by individuals, businesses and the city alone are sufficient to mitigate climate change. What we need are major, system-level changes in construction, traffic and energy production. Big changes come from socio-technical innovations, a combination of innovations that affect technology, behaviour and business models. In a low-carbon society, energy efficiency, the wellbeing of people, and economic resilience go in the same direction.
The best things arise from cooperation between different people and operators. The Climate Partners network aims to contribute to the generation of these best things.
Experiments made in the actual environment are the best method
New system-level innovations are difficult to test in a lab environment. A city is an excellent testing environment and platform, and successful tests have already been carried out in the new Kalasatama area and the Viikki environmental house in Helsinki. The smart container experiment in Kalasatama presented an easy way to provide inhabitants with services not yet otherwise available. In Viikki, storage of solar energy and the opportunities it opens up are tested.
Challenges may occasionally arise from the slow decision-making process of the city (which may sometimes be called democracy or consideration) and the quarterly approach by businesses. It takes a lot of courage from an ordinary official to try a completely new solution with taxpayers' money.
"What if it fails? Where to find money to make corrections? How many times would you like to go the city council to explain an unsuccessful trial?" asks Deputy Mayor Pekka Sauri, but continues by saying that this is something we should do to make big changes possible.
The atmosphere encouraging to experiments should and could to be extended beyond terms in office and quarterly reports. Committing businesses and universities to solve social problems could be the model that, over a long term, would generate new, globally distributable business models. The risks involved in the experimental culture also mean great opportunities for all.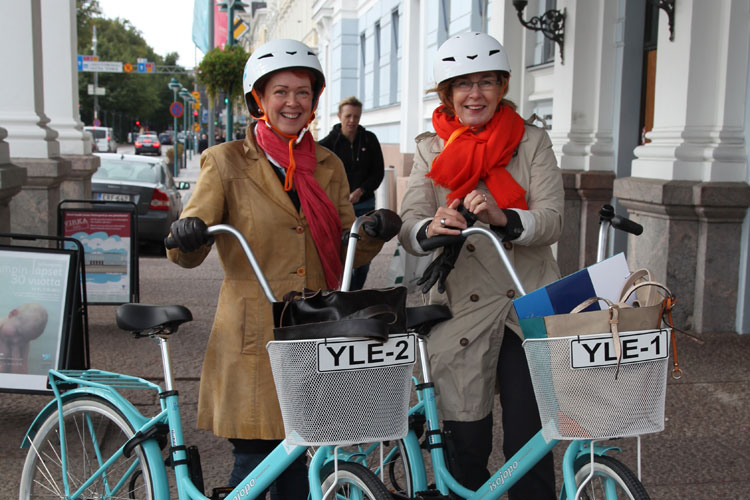 A convenient journey from Pasila to Climate Partners' seminar at City Hall was by bike.
Both side by side and together
Climate Partners are each committed to reducing their emissions. However, by themselves they can only reduce their emissions to the certain point but cooperation can take them further or faster. Someone's waste is a valuable ingredient for someone else or a new service can be the missing piece that completes, say, a traffic solution with lower emissions. In the Climate Partners network, different sectors collide and make it possible to build a new low-carbon society. Let's hope that we have enough courage to try things out!
Mira Jarkko Climate Partners network, Coordinator City of Helsinki Environmental Centre