The United States have a long tradition of 'Buy American' thinking. As part of its huge New Deal revival package in the 1930's, the Roosevelt government launched a 'Buy American' programme in 1933 to guide public purchasing. The programme is still in effect today and it has since been complemented with other programmes favouring domestic products.

The 'Buy American' thinking is going strong again. Walmart, the biggest retailer chain in the world, announced in January 2014 that it will increase its purchases of products manufactured or grown in the United States by $50 billion. This summer, Walmart collected more than 1,000 significant supplier companies to discuss the implementation.

A factor behind the phenomenon is the remigration of industrial production into the United States. The neo-industrialisation is supported by the diminishing difference in labour and logistics costs between the U.S.A. and Asia and the significant decrease in the price of energy in the U.S.A. internal market. The development also owes much to the determined work done both at the federal and state levels in order to make the transport infrastructure more efficient and to attract domestic and foreign industry investments back into the United States, among other things.

However, the most important factor behind the 'Buy American' phenomenon is the support of the people, consumers' will to support employment in the United States.

According to attitude surveys, consumers' will to support employment and favour domestic products is even higher in Finland than in the United States.

According to new surveys commissioned by the Association for Finnish Work, 90% of Finns want to know the origin of the products they buy. As many as 82% think that the companies whose products they buy should be socially responsible. In addition, 75% considers it a responsible deed to favour products and services that are produced in Finland. People are willing to favour Finnish products and services because those are associated with quality, responsibility and support to employment.

Now we should make it easy for consumers to put these attitudes in practice and thus support employment in Finland. This mission was realised as the Blue and White Footprint campaign that was launched in December 2013.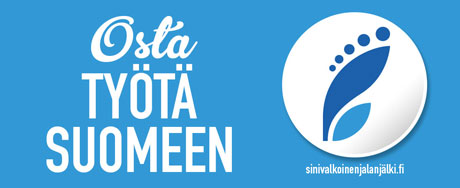 The Blue and White Footprint campaign is a joint effort to promote Finnish work by the Association for Finnish Work, the K-Group stores (K-citymarket, K-supermarket, K-market, K-extra, Anttila and Kodin1), the Finnish food industry and the Finnish home and speciality goods industry.

The campaign runs through 2014 and reminds consumers that their consumption choices do make a difference. The campaign also brings together local suppliers and a wide array of organisations such as the Central Union of Agricultural Producers and Forest Owners (MTK), Finfood – Finnish Food Information, the Finnish Horticultural Products Society and the Finnish Food Workers Union SEL.

Further information: www.sinivalkoinenjalanjälki.fi.
Tero Lausala is the CEO of the Association for Finnish Work.