IR Blog: Introducing Sami Kiiski, the new President of Kesko's car trade division
01.06.2023
Sami Kiiski took over as the President of Kesko's car trade division on 1 June 2023, as his predecessor Matti Virtanen retired. Kiiski has previously steered Kesko's sports trade business, which is now part of the car trade division. In our IR blog, Kiiski explains what he can bring to the car trade business, and how he hopes K-Auto can create the best customer experience in the business by combining great digital services with the ability to see and experience the cars in person.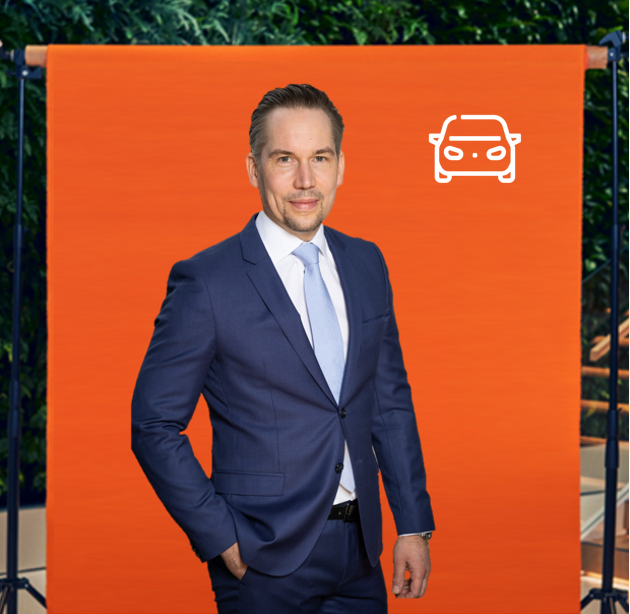 The newly appointed division President is unlikely to experience any dull moments, as the whole automotive sector and forms of mobility continue to undergo a massive transformation. Cars are becoming increasingly electric, and digitalisation is changing the way people buy them. Kesko has also been transforming its car trade division heavily in recent years, which has been reflected in good profitability development for the division, even with issues with new car availability bogging down the business. While availability issues have begun to ease, weakening consumer purchasing power is a new cause for concern, as it affects people's ability and eagerness to purchase cars.
Sami Kiiski says that Kesko will continue to actively develop and transform its car trade operations further, with focus firmly on the future. Previously identified potential will be developed and refined further. As stated in the division's strategy, the business will comprise the sales of new and used cars as well as various car-related services, including Finland's most extensive EV charging network K-Lataus.
Strong brands and increased importance of a multichannel approach something both car trade and sports trade share
Kesko's sports trade comprises two store chains: Intersport and Budget Sport. Up until April this year, figures for sports trade were reported as part of Kesko's building and technical trade division, but now sports trade operates under the car trade division. Kiiski has headed Kesko's sports trade since 2020. He sees car trade and sports trade as a good fit, as both are consumer-driven businesses based in Finland, with a strong focus on international brands.
What has Kiiski learned in his years in sports trade that he can utilise in overseeing Kesko's car trade?

"For one thing, the Volkswagen Group is an important partner for K-Auto, and in my years in sports trade, I've gained plenty of experience in collaborating with strong international brands. We have worked hard in sports trade on advancing digitalisation and a multichannel approach to customer service – both themes are very relevant also for car trade. I also see potential in concept development and in strengthening the K-Auto brand," says Kiiski.
Aiming for the best customer experience in all car trade
One of the key strategic objectives for Kesko's car trade is to be able to provide the best customer experience in the business. According to Kiiski, this means making the process of buying a car or related services as easy as possible for the customer. Key elements in this are advanced digital services combined with the expertise and customer service skills of K-Auto's sales staff, which will be further developed going forward.
In practice, making car purchases easier might mean, for example, cutting down on unnecessary paperwork. K-Auto can also utilise its customer data to anticipate and proactively respond to customer needs, for example, by helping customers book servicing at the right time.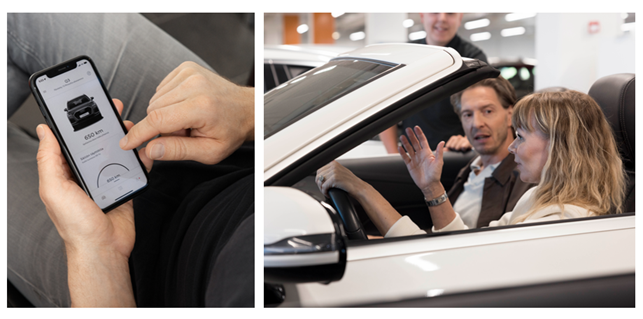 To ensure the best customer experience in the business, Kesko's car trade relies heavily on a multichannel approach that combines advanced digital services with expert in-person customer service
Although digital services play an important role in modern car trade, Kiiski stresses the importance of combining them with a network of physical stores:

"Buying a car is a big investment – it is important that we have stores located in the right places so that our customers can come in, get a feel for the cars and take them for a spin."
Updating the Finnish vehicle stock for safer and more sustainable driving
As with everything Kesko does, sustainability is an important theme also in the car trade division. As Kiiski notes, car trade is well-positioned to promote the green transition and e-mobility. Even for drivers who prefer the traditional combustion engine, modern car models offer notably lower emissions. On average, Finns drive much older cars than people elsewhere in Europe: updating the badly outdated vehicle stock would be beneficial for both the environment and for traffic safety.
And how does the newly appointed head of car and sports trade intend to get around this summer – will he opt for an electric car or an e-bike?
"Definitely both, depending on the weather," says Kiiski with a smile.