President and CEO Mikko Helander: record Q2 result shows that Kesko's strategy is working under changing circumstances
26.07.2022

The second quarter of 2022 gave the best Q2 result in Kesko's history, as good development continued in all divisions. Our net sales grew by 3.9% in comparable terms, totalling €3,108.5 million. The Q2 comparable operating profit totalled €236 million, representing an increase of €16.6 million. Our quarter-result has improved on its comparison period for 13 consecutive quarters. Although the pandemic is not over, its impact on Kesko's businesses has clearly diminished. This and the record result achieved act as strong indication that Kesko's strategy is working and that people in K Group are doing an excellent job under changing circumstances.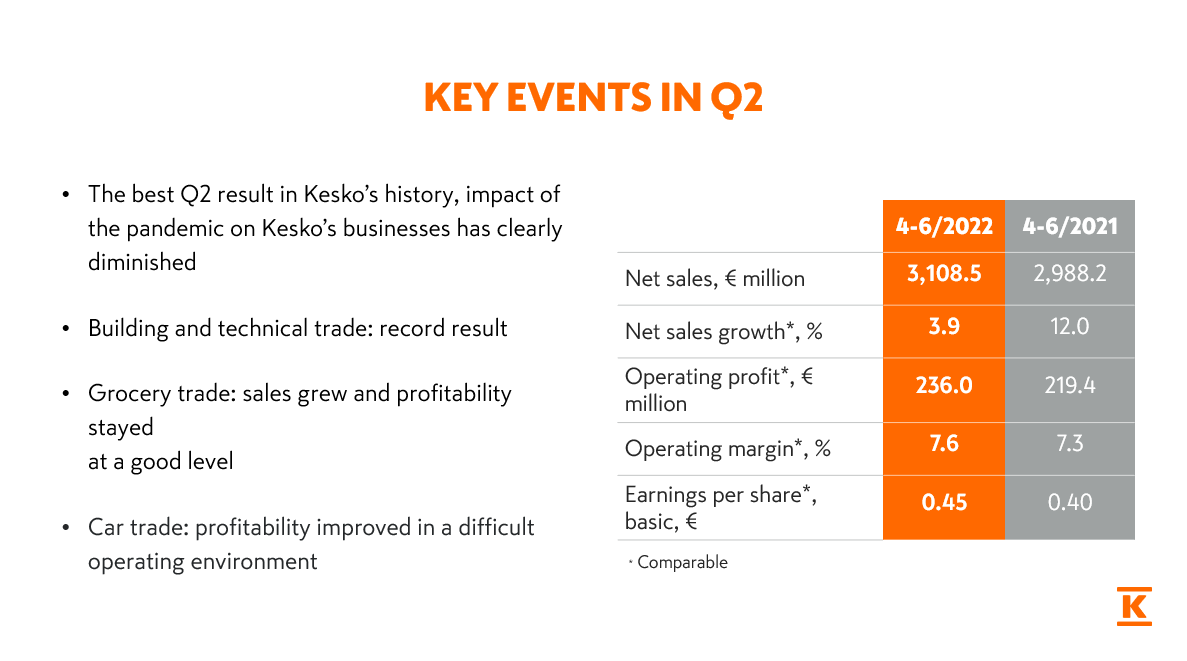 Our strong position in all areas of food trade helped our performance in a changing market. Profit for the grocery trade division improved thanks to good development in Kespro and our grocery stores. The division's net sales grew by 5.1%. Operational efficiency improved further. Kespro's net sales grew by nearly 30% as post-pandemic consumption shifted increasingly towards restaurants. Sales to K Group grocery stores grew by 1%. Rising food prices mean that the whole food trade market is growing, but they also have an impact on consumer behaviour. Interest towards high-quality food has grown, and the popularity of eating out and quality ready meals has continued to grow. At the same time, price has become an increasingly important consideration for many consumers. Our stores are able to offer customers both premium and bargains, all under one roof.
In the building and technical trade division, our focus on B2B trade resulted in a record result of €109.5 million. Net sales for the division grew by €106 million. Net sales grew thanks to good performance in B2B trade, sales growth was particularly strong in technical wholesale in all operating countries. B2B sales also grew in building and home improvement trade in Q2, but the pace slowed down. Meanwhile, sales in B2C trade came down from the exceptionally high levels seen in the comparison period. Construction and renovation activity remained high in Northern Europe, with green transition also underpinning demand. Increased prices are also causing the building and technical trade market to grow. Construction and renovation are increasingly being outsourced to professionals. B2B trade now accounts for some 80% of the division's sales.
In the car trade division, the transformation of our operations and active measures in all areas resulted in improved profitability in a difficult market. The division's profitability improved and operating margin strengthened and stood at 5.6% despite the fact that net sales decreased due to car availability issues. New car sales have, however, continued strong, raising our order book to a record level. Sales margin growth and cost-efficiency improved profitability. The share of electric and hybrid cars is growing strongly in passenger car sales, with tax breaks and the rise in fuel prices in particular accelerating their demand. The car trade division has significant profit improvement potential once the availability of cars returns to normal levels.
The outlook for Kesko's businesses is positive. We estimate that Kesko's 2022 comparable operating profit will be in the range of €750 – 840 million. Before, we estimated that the comparable operating profit would be in the range of €730 – 840 million. In 2021, our operating profit totalled €775.5 million.


KESKO'S Q2/2022 PERFORMANCE IN BRIEF:
Group net sales in April-June totalled €3,108.5 million (€2,988.2 million), an increase of 3.9% in comparable terms, reported net sales up by 4.0%

Comparable operating profit totalled €236.0 million (€219.4 million), up by €16.6 million

Operating profit totalled €238.3 million (€218.1 million)

Comparable earnings per share €0.45 (€0.40)

Reported Group earnings per share €0.45 (€0.41)