Kesko's second Data balance sheet report expands scope to cover all three divisions
17.03.2023
In early March, Kesko published its second-ever Data balance sheet report as part of its Annual Report. Kesko remains the only Finnish listed company to issue a voluntary report detailing how it is utilising the data it possesses to drive business. Data and digitalisation were once again highly important for Kesko in 2022, as they helped the company navigate in a rapidly changing operating environment.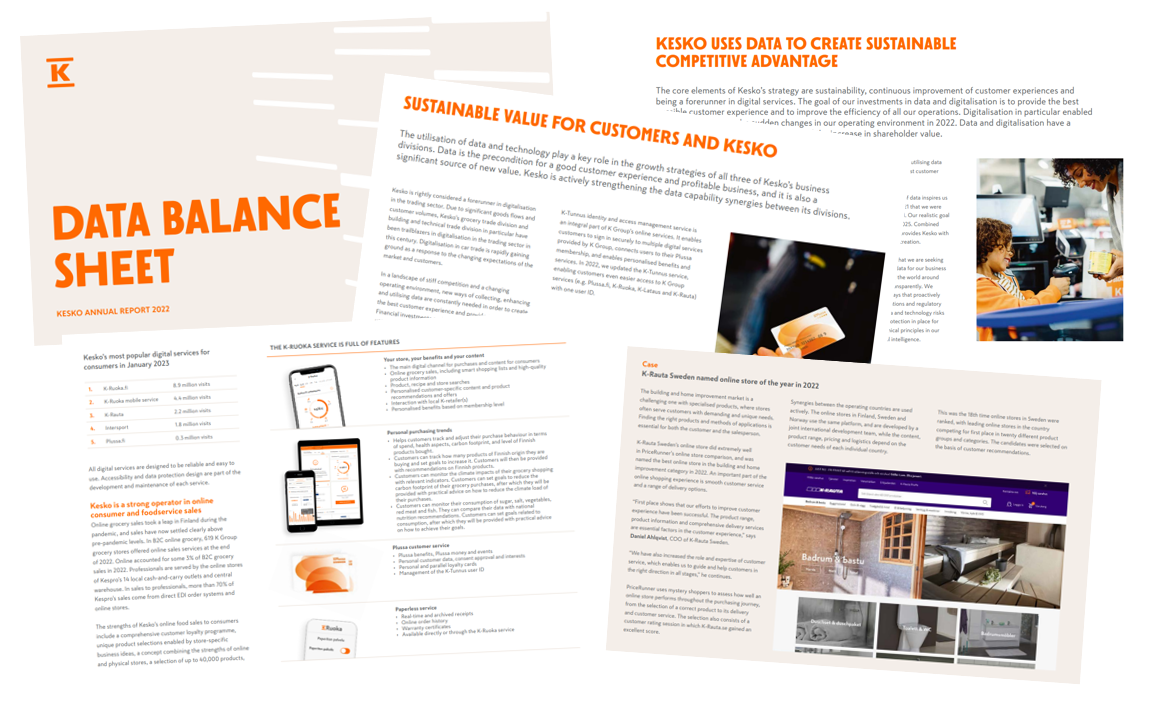 Data plays a central role in aspects such as creating a good customer experience, managing stores, online sales operations and supply chains, and also in improving profitability. Our report provides more information on how this is done, with interesting case studies. We explain, for example, how we are utilising and upgrading the digital ecosystem in our grocery trade division, to create value to various stakeholders such as customers, K-retailers, suppliers of goods and services, and other partners.
Data and digitalisation are crucial for all three business divisions
Kesko's first-ever Data balance sheet report was published last year. That report focused mainly on our grocery trade division. The second report has a wider scope, expanding the point of view also to building and technical trade and car trade. For example, one key element in digital services in building and technical trade is offering extensive product information, images and instructions for installation. The division has also used digitalisation to provide smooth and convenient purchase processes for its customers. In car trade, an AI based tool developed by Kesko determines the correct price for each used car, based on regional data concerning current trends in e.g. demand and sales completed.
In addition to offering benefits for business and customers, data also involves threats and risks, which Kesko actively manages. Robust data protection, cyber security and a modern, continuously evolving technological infrastructure form a strong foundation for everything else. Transparent communication about data management and utilisation and sustainable data-driven value creation are in line with data economy that values the rights of the individual.
See Kesko's Data balance sheet report as part of our Annual Report!