Growth in Kesko's building and technical trade comes from all countries
02.06.2022
Kesko's building and technical trade has become international business. In 2021, operations outside Finland accounted for nearly half of the division's net sales, which grew by 14.7% and totalled almost €4.4 billion.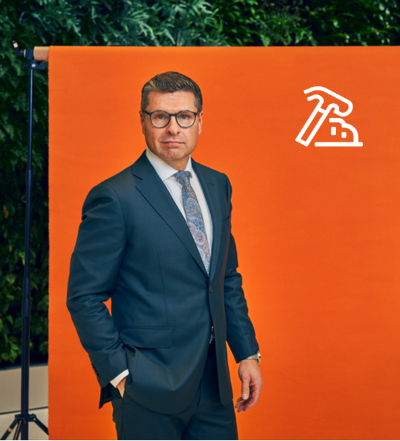 "The most significant thing is that all of the division's operating countries and businesses made a profit last year, with considerable improvements. Kesko is now the leading operator in building and technical trade in Northern Europe," says the division President Jorma Rauhala.
The division's results surged during the pandemic as homebound consumers began to do renovations around the house with unpresented enthusiasm. Consumer sales have since come down from those record levels, but B2B trade – which accounts for nearly 80% of the division's sales – has continued strong. The acquisitions made in Sweden and Norway have also boosted results, while the rise in prices has also had an impact.
Building and technical trade's international journey began decades ago
The first K-Rauta building and home improvement store opened in Sweden in 1996. Success outside Finland has varied over the years, but now everything appears to be on the right track. According to Rauhala, today's success is founded on the adoption of country-specific and business-specific strategies a few years ago.
The first K-Rauta store opened in Sweden in 1996. Success outside Finland has varied over the years, but now everything is on track, thanks to the country-specific strategies adopted a few years ago.
Performance in 2021 was also supported by the market, but Rauhala stresses the importance of long-term committed background work based on customer insight, which has led to better customer experiences: "We have engaged in active sales work, developed our selection and pricing management, improved efficiency in logistics, and established online stores."
Onninen is a great example of Kesko's country-specific approach in action: in Finland, it is the market leader in HPAC and electricity, in Norway it is strong in electricity, while in Sweden it focuses on customers in the infrastructure segment.
Positives in every operating country
In 2021, the division's result grew by €130 million, half of which came from outside Finland. Operating profit in Finland rose to €181 million, in Norway to €70 million, and in Sweden to €30 million. Results grew also in the Baltic countries and Poland. Indeed, positives can be found in all operating countries.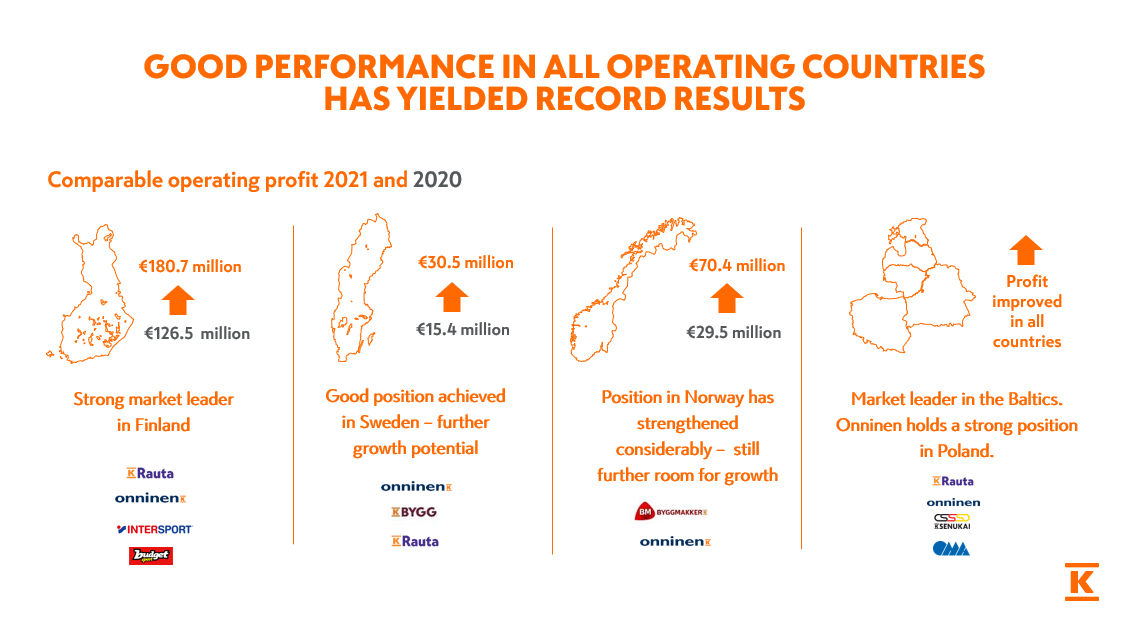 In Finland, both K-Rauta and Onninen increased their sales and profit further in 2021, underpinned by strong B2B demand. Both chains were able to increase their market share to an all-time high of some 44%.
Turnaround in Sweden took some time, but multiple acquisitions have put the operations on the right track. Kesko is moving forward on three lanes: K-Bygg, which focuses on serving professional builders, is the biggest chain in terms of net sales, while the K-Rauta chain serves both B2B and B2C customers. Onninen offers technical wholesale solutions to, for example, windfarms and water and sewage systems.
In Norway, operating profit more than doubled in 2021. The Byggmakker chain is now number 3 on the Norwegian market, and Onninen's market share has grown. In the Baltic markets, Onninen is the growing market leader in technical wholesale. The market in Poland is developing well and holds plenty of potential, though Kesko has decided to focus only on technical wholesale via Onninen, with great results.
In addition to country-specific actions, Kesko has also sought synergies between the operating countries, for example, in own brand products and shared online sales platforms.
Promising outlook
Rauhala considers the division's outlook promising. The first months of 2022 have exceeded expectations, leading Kesko to issue a positive profit warning in April due, in particular, to stronger than anticipated demand and prices in the building and technical trade division.
"There is still plenty of further potential on the markets. Building and technical trade is a growth sector of the future."
Division President
Jorma Rauhala
"Although volumes in consumer trade are coming down somewhat, we do not expect a crash. Prolonged inflation could impact demand, but people have been very busy buying and building new homes and cottages in recent years: there is still plenty of work and renovation that needs doing, while in the longer term our outlook is underpinned by megatrends."
According to Rauhala, the availability issues that have plagued the industry have hardly slowed down Kesko's pace.
"Delivery times can be long for specific products and categories, such as air source heat pumps, and of course this may cause delays in renovation projects, which is unfortunate for individual customers and sales staff. However, thanks to our extensive selections, we are usually able to offer the customer an alternative product. When earlier this year we discontinued our – already very minor – imports of wood, steel and cable products from Russia and Belarus, we were quickly able to obtain alternative products in Finland and Western Europe."
Performance in upcoming years will also be boosted by the green transition and related new solutions for generating and storing energy.
"The technology will continue to develop and digital solutions increase, boosting the demand for Kesko's building and technical trade division for years to come. As stated in our growth strategy, we continue to seek growth also via acquisitions, with main focus on Scandinavia and B2B. As a stable wealthy country, Denmark is one interesting market, but if and when we enter the Danish market, we need to acquire a sufficiently significant local operator," says Rauhala.
Text: Kirsi Suurnäkki-Vuorinen
Summary of an article first published in Kehittyvä kauppa in May 2022