Jussi-Pekka Erkkola: Co-creating Digital Customer Experience in a Physical Store
Jussi-Pekka Erkkola | 03.11.2016
The retail business is transforming due to e-commerce, digital services and the changing customer behavior. It is important that stores are a part of the digital experience, because the store is still the place to create the WOW effect for customers.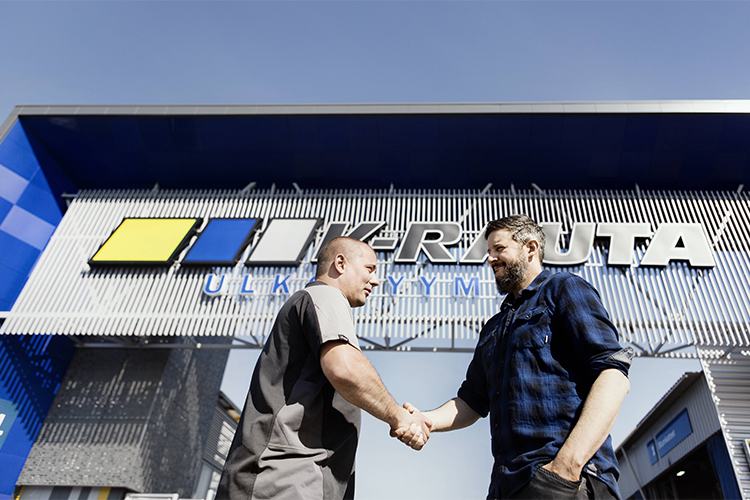 Kesko has DIY and home improvement stores in Finland and also in other countries K-rauta being the our international chain brand. We are heavily investing in the technical side of digital development but also building the culture and mindset across the whole company and our partners.
Help salesperson to help customers improve their homes
If you think about common challenges customers have related to DIY and home improvement, one of the most common one relates to difficulty to visualize and show how different product combinations and solutions look in customers own home and how to compare the pricing of these different solution.
For the sales personnel the challenges usually circle around how to add more value to customer by selling solutions with service products like installation or design services.
Our sales personnel face following types of situations and questions daily:
What the customer needs and wants right now? Are they building a new home? Are their kids moving out and the spare room needs new purpose? Have they bought a renovators dream apartment with 80s style?
Do we know who the customer is? Have they bought something from us before? What other furniture, designs, colors etc. they have already in their home? What are their favorite colors, materials, designers and brands? What is their budget? What is their family like? Are they professional builders? What are their hobbies and interests?
Have they already been looking at something in our web site or even added products to the ecom shopping cart? Did they come because they saw an ad or got personal offer from us in some print or digital form? Are they here to just collect items they purchased online?
How do I communicate solutions to the customer? What products go well together? What does it cost? Will it fit to customers room? What are the unique selling points of the particular product or solution?
Why would a specific product or range of products be the best solution for this customer? How will it look in customers home or room?
What do we answer when customers inquire about products? Do we have this thing the customer ask about? How is the product used? What they are good for? How to take care of them? What is the stock balance or availability? What else the customer needs with this specific product? How have other customers used the product? Is there any examples? What are available spare parts?
Can we assist customers by offering value adding services? Do they have a car or do they need a delivery service? How experienced are they installing or using the products themselves? Do they need help in interior design?
As you can see there are multiple different situations where we can serve our customers even better. Thats why we would like you to come up with service ideas to help our sales personnel or customers in store. Finding new innovative ways to help our customers is one of the main reasons why we want to participate co-creation events like Junction Hackathon on Nov 25-27, 2016
Your Junction 2016 Challenge - we hope you choose to accept
We at Kesko have tried to look in to the crystal ball every now and then. This video below shows what we thought about the future 2 years ago. Some of it is already in the past and some things look quite different.
In Junction Hackathon we are sponsoring the eCommerce & Retail track and we want you to help us to build the future of retail.
During the Juntion Hackathon weekend we would like you to come up with a tool or service for the salesperson to help the customer. It should solve the list of some of the challenges the sales person or customer is facing in store.
Your solution could be:
Mobile app, dashboard or a tool for the sales person
Digital experience for the customer (e.g. Virtual Reality, Augmented Reality, Artificial intelligence / cognitive)
Solution should be usable in-store to drive in-store sales. Keep in mind that customers journey is usually starting and ending at home. Support one or more parts of the customers journey.
Help the sales person to create the best customer experience together with the customer. As you know, deciding what kind of kitchen you want to have or which power tools are right for you is not always an easy task. Digital tools or experiences should help to find the best solutions for the customer. Even if we are developing digital soulutions try to bring up the human touch.
We want you to succeed
During the event you will have access to product data and 3D models of living rooms and kitchens etc.
We will have Kesko personnel, retail store personnel and 3D model exports e.g. from Say duck http://sayduck.com/ helping you out during the event.
Got questions or want to meet us and others before the event?
Want to team up and meet others? Join us on 9th of November in a pre-event organized in co-operation with Product Tank Helsinki. Sign up here so we know how much beverages and snacks we shouls reserve http://www.meetup.com/ProductTank-Helsinki/events/234091181/
If you have any questions, please be in contant and send us a message.
Jussi-Pekka Erkkola, Development director, ecommerce & digital services, Kesko, Building & Technical Trade