Kesko initiated a strategic transformation in 2015. Good progress has since been made in the core areas of customer orientation, stronger growth and profitability, and increased focus of operations. Kesko's strategic business areas are the grocery trade, building and technical trade, and car trade. These are all areas where we have strong expertise and market positions; they also offer good potential for profitable growth in the long term. Kesko differentiates itself from the competition by emphasising quality and strong customer orientation and by offering the best digital services within the trading sector. The strengthening of profitable growth and efficient allocation of capital create the foundation for growth in Kesko's shareholder value.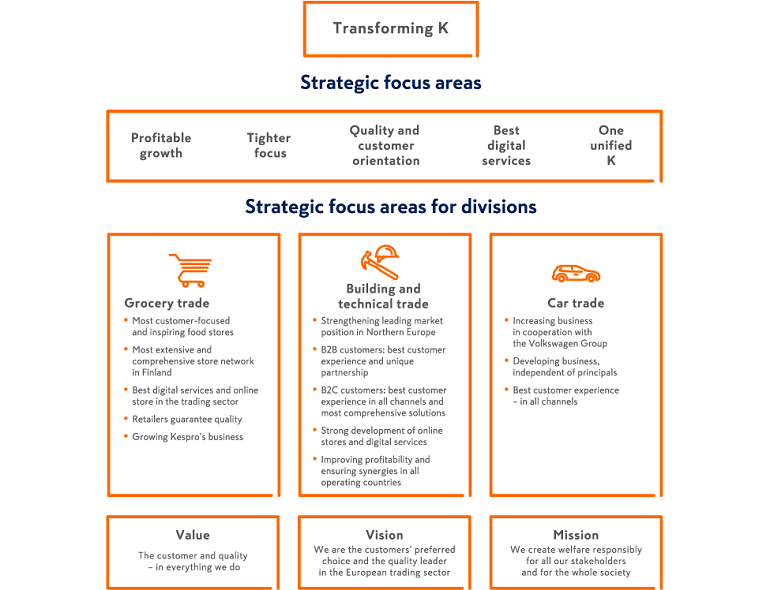 We are determinately implementing our growth strategy
In the grocery trade, our objective is to strengthen our market share in Finland. We want to offer the most inspiring food stores and digital services on the market. K-retailer entrepreneurs guarantee quality and customer orientation. We have the most comprehensive network of stores in Finland, and our grocery trade market share is at its highest in decades.
Our key strategic action has been the active transformation of all our K-food store chains. The remodelling of K-Citymarket hypermarkets is well under way: we have made significant changes to fresh food departments and home and speciality goods selections in particular, and now also offer more services. 35 stores have been remodelled so far and almost the whole K-Citymarket chain will be remodelled by the end of 2018. We implemented our neighbourhood market growth strategy by acquiring Suomen Lähikauppa in 2016. This doubled our neighbourhood store network to 800 stores. We have remodelled all the acquired stores and by summer 2018 all K-Market neighbourhood stores will be operated by retailers. Synergies from the acquisition have materialised sooner than anticipated. Megatrends enforcing the demand for neighbourhood services include urbanisation, growth in single-person households and population ageing. The transformation of the K-Supermarket and Neste K chains is also proceeding strongly.
In early 2017, we launched a new model for online food sales in the greater Helsinki region, with notably wider selections and home delivery. In 2018, we will grow the network of stores offering online food sales, and we aim for a 40% share of the market.
Another strategic focus area is actively growing the business of our Foodservice wholesale company Kespro, which serves customers in the hotel and restaurant business. The increased popularity of eating out supports Kespro's business.
In the building and technical trade, our objective is to improve profitability in all operating countries and strengthen our market position in Northern Europe. The biggest growth potential lies in the B2B trade, which is underpinned by megatrends: building and renovation are becoming more technical and increasingly outsourced to professionals. The acquisition of Onninen in 2016 notably strengthened our position in the building and technical trade B2B sales and expanded our product selection from building products to electrical and HEPAC products. Onninen's acquisition also enables significant synergies in sales and purchasing, store site network development, logistics, ICT and administration. For consumers, we offer increasingly comprehensive renovation solutions.
In Finland, we combined the K-Rauta and Rautia chains in the spring of 2017 to form a new K-Rauta chain, and opened a new k-rauta.fi online store. We actively seek growth in our international operations in Sweden, Norway, the Baltic countries, Belarus and Poland through continued investments, updates to the store site network, and the development of digital services.
Building and technical trade is the most international of our divisions. Towards the end of 2017, changes were made to the organisational structure and responsibilities within the division in an effort to accelerate growth and profitability. The role of local companies in our eight operating countries is now emphasised, and they are responsible for meeting our customer value proposition. On 16 February 2018, we announced we would be discontinuing our building and home improvement trade operations in Russia by selling most of our store sites there for the price of some €169 million. The transaction will significantly improve Kesko's return on capital employed.
In the car trade, our goal is to strengthen our market leading position in passenger cars and vans in Finland through tight cooperation with Volkswagen Group. The acquisition of AutoCarrera has expanded our selection of brands to Porsche passenger cars. We also seek growth by creating new business by tapping into the sector's megatrends. An example of our efforts is the Caara.fi platform, where we can add new services to complement the existing online sales of used cars and rental and leasing services.
In addition to our significant acquisitions, we have established a new health and wellbeing store chain, Hehku, together with the pharmaceutical distributor Oriola. The chain opened its first stores and online store on 25 January 2018. The plan is, if legislation is amended, to expand the business to include the sales of pharmaceuticals.
We have determinately implemented our strategy to become a more focused K Group by divesting the K-maatalous agricultural business, the Asko and Sotka furniture trade, and the leisure machinery trade, and earlier the food and sports trade in Russia and department store trade in Finland.
We are a forerunner in sustainability
Corporate responsibility manifests itself in our everyday activities, for example, in our product selections, purchasing, and the use of energy. It is also something our stakeholders expect from us.
We were the first Finnish company to set emission targets approved by the Science Based Targets initiative in line with the Paris Climate Agreement. We are reducing emissions through the use of renewable energy, energy-efficiency at our stores, and efficient logistics. Since the beginning of 2017, all electricity purchased by Kesko in Finland has been produced with renewable energy, and we are the biggest producer of solar power in the country.
As a sign of our long-term commitment to corporate responsibility, Kesko was again included in the prestigious Dow Jones Sustainability Indices of the world's most responsible companies, the DJSI World and the DJSI Europe. Kesko also ranked 31st on the Global 100 Most Sustainable Corporations in the World list published in January 2018, being the most responsible trading sector company in the world.
Our financial targets
We are proceeding towards our financial targets and a better return on capital employed and return on equity through growth, improved profitability, synergies, and increased working capital efficiency. In addition to growth, we continue to focus on improving the cost-efficiency of all our operations to ensure competitiveness.
Our strong balance sheet enables us to pay good dividends and develop and grow our business organically as well as through acquisitions and partnerships.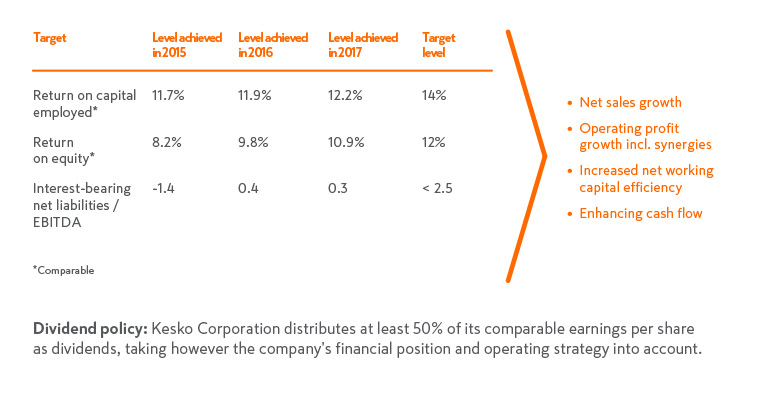 Value
Customer and quality – in everything we do
Vision
To be preferred choice of customers and the quality leader in the European trading sector
Mission
To create welfare responsibly - for all our stakeholders and for all society
Strategy review by the President and CEO Mikko Helander
Read more