This page includes:
General principles of Kesko's corporate responsibility
Certification and audit systems related to production in high-risk countries approved by Kesko
Principles and Practice of Socially Responsible Trading guide
Corporate responsibility work is based on Kesko's value, vision and mission. Corporate responsibility work is guided by Kesko's sustainability strategy, the K Code of Conduct, Kesko's general corporate responsibility principles, and Kesko's purchasing principles.
Kesko has committed to several international declarations and conventions, the most important of which are:
The UN Universal Declaration of Human Rights and the UN Convention of the Rights of the Child
The ILO convention on the Fundamental Rights and Principles at Work
The OECD Guidelines for Multinational Corporations
The ICC Business Charter for Sustainable Development and principles against corruption and bribery
The UN Global Compact initiative
The UN Sustainable Development Goals
The purchasing principles of the amfori Business Social Compliance Initiative (amfori BSCI)
General principles of Kesko's corporate responsibility
Kesko's Corporate Management Board has approved the Group's general corporate responsibility principles. These principles define Kesko's key economic, social and environmental promises and related communication principles.

Corporate responsibility – and behaving responsibly towards all our stakeholders – forms an integral part of Kesko's values, operational strategies, management, and everyday operations. Our goal is to improve customer satisfaction, employee satisfaction, and our competitiveness and profitability, and promote common, responsible ways of working, manage reputation-related risks effectively, and ensure that Kesko is an attractive employer.

Kesko's responsibility is direct in respect of its own operations, and indirect in respect of the operations of its partners in its procurement and sales chains. Kesko monitors the performance of its operations in these areas using internationally recommended indicators, and reports on its progress openly and comprehensively. Reporting is covered by assurance statements provided by impartial third parties.

The international dimension

As Kesko operates in a number of countries and buys goods from suppliers worldwide, the Group is covered not only by national legislation and agreements, but also by numerous international agreements and recommendations.

These include the UN's Universal Declaration of Human Rights and Convention on the Rights of the Child, UN's Guiding Principles on Business and Human Rights, the ILO's Declaration on Fundamental Principles and Rights at Work, the OECD's Guidelines for Multinational Enterprises, and the International Chamber of Commerce's Business Charter for Sustainable Development, and the ICC's guidelines on bribery and corruption.

Kesko has also committed itself to the UN's Global Compact and the challenges it contains aimed at promoting human rights, people's rights at work, environmental protection, and eliminating corruption.

Kesko sees maintaining a high level of corporate responsibility as contributing to the Group's competitiveness, and its operating principles exceed legislative and statutory requirements in many areas as a result.

Triple bottom line management

Kesko's approach to corporate responsibility and the indicators it uses to measure its performance here are based on the concept of 'triple bottom line management', in which financial, social, and environmental responsibility are developed in harmony and in parallel. Financial responsibility and good operational performance are essential to the ongoing, long-term development of environmental and social responsibility, which in turn create new opportunities for increasing sales and enhancing profitability.

Financial responsibility

Financial responsibility encompasses good financial management, an efficient use of resources, and delivering a consistent, long-term economic benefit to a broad range of stakeholders.

A good financial result should be achieved responsibly – through good corporate governance, open communications, and effective stakeholder dialogue, and with due attention given to the requirements of environmental and social responsibility.

Kesko reviews the economic benefits that it provides from the standpoint of its stakeholders, the markets in which it operates, and the communities that it serves. The wellbeing of the Group's stakeholders in its markets is of prime importance, but as the extent of Kesko's international business expands Kesko will also be more involved in promoting wellbeing and prosperity outside its own markets, particularly in developing countries.

The products sold by Kesko, regardless of their origin, should always comply with the appropriate standards set for physical, social, and environmental quality, and product safety.

Environmental responsibility

Kesko's most significant direct areas of environmental impact are related to the emissions associated with the generation of the electricity and thermal energy used at its premises, the emissions produced by deliveries, and the waste generated during the storage of the goods it sells. Indirect impact is linked to the production and packaging of the goods sold in Kesko stores, the use of these goods, and their disposal.

Kesko's aim is to reduce the level of its direct environmental impact in relation to the volume of its operations on a continuous basis. The Group monitors the impact of its environmental measures on its financial result through its environmental accounting.

As part of efforts to reduce its indirect environment impact, Kesko promotes the sale of environmentally benign products and participates in public and private-sector R&D projects aimed at encouraging sustainable production and consumption.

Social responsibility

Kesko has a direct social responsibility for the wellbeing of its personnel, and an indirect social responsibility for that of the people employed by companies in its procurement and sales chain.

In line with its corporate values, Kesko invests in developing the quality of the workplace at Group locations and its management, with the aim of ensuring that personnel value their work and appreciate their employer and are motivated to do their job well.

In respect of its procurement chain, Kesko aims to ensure that the working conditions of the employees of its suppliers comply with the relevant legislative requirements and the ethical principles observed by Kesko, which are based on numerous international charters in the field. Although this goal cannot be achieved overnight, every positive step forward is one towards a more socially responsible world for all of us.

Communications

Kesko reports on its performance in the area of corporate responsibility to its stakeholders openly and comprehensively, using a variety of internal and external communications tools. The Annual Report, covered by an assurance statement from an impartial assurance body, forms the foundation of this communications effort.

Kesko participates actively in the work of national and international trade and business organisations aimed at developing responsible business practices on a voluntary basis and promoting the widespread adoption of best practices in the field.
The scope of these principles
These general principles on Kesko's corporate responsibility cover all companies in the Kesko Group, regardless of where they operate. Companies that become part of the Group through acquisitions are expected to draw up a plan on how they will incorporate these principles into their operations within 12 months of their integration.

These principles were approved by Kesko's Corporate Management Board on 31.1.2007. Their implementation is monitored and coordinated by a Corporate Responsibility Advisory Board, which reports on progress and performance to the Corporate Management Board annually in connection with the production of the Annual Report.

Kesko's general principles on corporate responsibility are supplemented by more detailed policies, principles, and guidelines drawn up at Group and divisional level covering specific areas of operations as well as the K Code of Conduct.

The board of the K-retailers Federation has also reviewed these principles and recommends all independent K-retailers to observe them in their operations.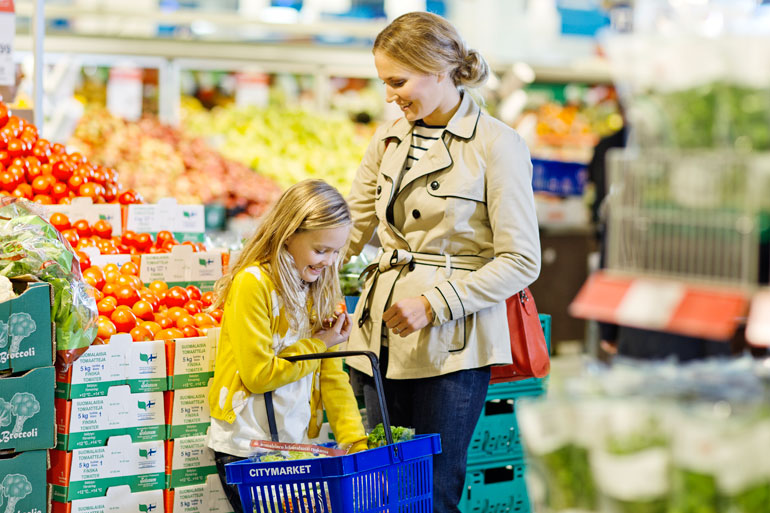 Purchasing strategy - Cornerstones of Kesko's purchasing
grocery trade and building and technical trade
The customer and quality – in everything we do
1. Customer needs are a key factor guiding selections and purchasing
Kesko offers extensive, affordable and customer-oriented selections to K-retailers, consumers and business customers.
Kesko forms its selections based on the requirements of its divisions, and offers solutions that meet the needs of even the most demanding customers. Kesko actively introduces new products from both international markets and local suppliers to its selections.
The K-retailer entrepreneur model guarantees customer-oriented operations and the most inspiring stores locally. K-retailers tailor selections and services in their stores to fit local customer needs.
2. Kesko concentrates its purchasing power on divisional basis
Purchasing has been concentrated to divisional commerce units which coordinate purchases.
Synergies between the divisions are sought through co-operation and the development of operating models as well as through the sharing of best practices.
K-retailers tailor their product selections and services to suit the needs of their customers, using their local insight and K-Plussa customer data. K-retailers' own purchases complement Kesko's divisional purchases.
Kesko's indirect purchases in Finland have been concentrated to ensure efficiency.
3. Own brand products complement the selections of Kesko and K-stores
Own brand products are affordable to customers and offer an excellent price/quality ratio. They are purchased efficiently in large lots, which enables stable long-term sales volumes for the suppliers.
The safety of own brand products is ensured.
The Product Research Unit's laboratory monitors the safety and quality of own brand products and own imports in the grocery trade. All of our food product operations have a self-control plan in place, and the producers of our own brand food products are required to have international, GFSI recognised certifications that assure product safety.
Own brand products for the building and technical trade are tested and certified in accordance with product group requirements, while ensuring the products meet demands set for the importer.
Operating models have been established for identified responsibility risks in the supply chain of our own brand products. Responsibility in the purchasing chain is constantly monitored and developed. The purchasing of products containing ingredients with significant responsibility risk is managed through sustainability policies.
4. Kesko and K-retailers value Finnish and local products in purchasing
In Kesko's concentrated product purchases, we prioritise the operating country's own suppliers if the quality, price and other terms of delivery are competitive.
Finnish products are chosen for the Pirkka range if they meet the criteria for quality and price.
K-retailers' own purchasing considers products by local suppliers when establishing selections that take into account store-specific customer needs.
5. We ensure cost-efficiency and affordable prices for customers by utilising data-based purchasing and versatile purchasing channels
Selection planning and customer price targets are based on researched customer needs, market prices and sales data.
Logistical costs of purchasing are minimised by selecting the most efficient order method and by optimising delivery amounts and frequency and the logistical operating model in the supply chain.
We use multiple purchasing channels and tools in an effort to make purchasing economic, efficient, responsible and customer-oriented. We also utilise e.g. international purchasing alliances, electronic bidding, direct purchases from product manufacturers, and local sourcing by retailers.
Kesko seeks partnerships with suppliers by building responsible long-term cooperation and supply relationships.
Kesko's purchasing principles
Kesko's Board of Directors accepted the ethical principles for purchasing on 30 April 1999. The principles are based on the fundamental rights at work accepted by the International Labour Organisation (ILO), the UN Declaration of Human Rights and the UN Convention on the Rights of the Child. The principles are applied to purchases from such developing countries where legislation and/or its supervision do not guarantee that international minimum standards are met by companies.
The supplier can prove that it fulfils Kesko's ethical requirements by obtaining a neutral social certification for its operations.
Read more about the certification systems and Kesko's social quality control in practice in Kesko's Annual Report.
Kesko's principles of socially responsible trading
General
Kesko wants to cooperate with its suppliers and their subcontractors on a systematic, long-term basis to ensure the ethical quality of their products. Deviations from Kesko's ethical principles are handled similarly to deviations from other quality requirements. In the long run, Kesko favours in its purchasing those suppliers that approve of Kesko's values and principles and want to act accordingly. The most reliable way for a supplier of proving that it fulfils Kesko's ethical requirements is to have an amfori BSCI audit or another corresponding audit approved by Kesko.
Fair trading
Mutual cooperation between Kesko and its suppliers shall be open-minded, fair and equal, and adhere to contract terms. Bribes and similar measures are not allowed in any circumstances.
Child labour
The age for admission to employment shall not be lower than the age for completing compulsory education, and usually not lower than 15 years (14 years in exceptional cases in countries with insufficiently developed economies). The employment of young persons shall not jeopardise their education or their physical, psychological, social or moral development.
Forced labour
Employment of forced labour is prohibited, and employees shall not be kept in locked premises nor shall their freedom be restricted in any other way.
Discrimination
Discrimination against any employee in respect of race, colour, sex, religion, political opinion, national extraction, social origin or corresponding reason is not accepted.
Treatment and safety of employees
A safe and healthy working environment shall be provided to employees. No employee shall be subject to any physical, psychological or sexual harassment, punishment or abuse.
Freedom of association
Employees shall have the right to join associations and to organise them.
Terms of employment
The regular working hours shall not exceed 48 hours and overtime 12 hours per week, unless lower limits have been specified in national legislation. Higher wage rates shall be applied to overtime.
Employees shall have paid annual leave and 24 hours of consecutive rest per week.
Employees shall be paid at least the minimum legal wage or a wage that is specified in a collective labour agreement that is binding on the employer, whichever is greater. Wages shall be paid direct to the employees.
Kesko's Board of Directors approved these principles on 30 April 1999, and on 22 October 2004 the Corporate Management Board approved the use of other certification systems along with the Social Accountability SA 8000 standard.
Special attention to high-risk countries
In its operations, Kesko pays special attention to human rights issues and working conditions across its sourcing chain. Supplier monitoring focuses mainly on countries where the risks that these rights will be violated are the greatest (such as in most Asian and African countries).
Special attention is paid to working conditions in factories located in high-risk countries, despite the small quantity of imports from these countries (approx. 1.1% of all Kesko's purchases in 2019).
International assessment systems such as amfori BSCI auditing are used for supplier audits in high-risk countries. Kesko is a member of amfori, the leading global business association for open and sustainable trade.

The Principles and Practice of Socially Responsible Trading guide has been prepared to help Kesko's buyers and suppliers in purchases from high-risk countries.


Certification and audit systems related to production in high-risk countries approved by Kesko
| | | | |
| --- | --- | --- | --- |
| | Certification / audit system | Product group | Coverage of criteria |
| | amfori BSCI (amfori Business Social Compliance Initiative) | All product groups | Social, limited environmental part |
| | SA8000 | All product groups | Social |
| | SMETA | All product groups | Social, limited environmental part |
| | ICS | All product groups | Social |
| | Fairtrade | Agricultural products incl. cotton | Social, environmental |
| | Rainforest Alliance | Agricultural products | Social, environmental |
| | ProTerra | Agricultural products | Social, environmental |
| | MPS-Socially Qualified | Agricultural products | Social |
| | Soil Association Ethical Trade | Agricultural products | Social |
| | Sustainability Initiative of South Africa SIZA | Agricultural products | Social, environmental |
| | Sustainably Grown | Agricultural products | Social, environmental |
| | UTZ Certified* | Coffee, cocoa, tea | Social, environmental |
| | RSPO (Roundtable on Sustainable Palm Oil) | Palm oil | Economic, environmental, social |
| | RTRS (Round Table on Responsible Soy) | Soy | Economic, environmental, social |
| | WIETA | Wines | Social |
| | Vinos de Chile | Wines | Social, environmental |
| | MSC (Marine Stewardship Council) | Caught fish and shellfish | Environmental (sustainable fishing |
| | ASC (Aquaculture Stewardship Council) | Farmed fish and shellfish | Social, environmental |
| | Florverde Sustainable Flowers | Flowers | Social, environmental |
| | FLA (Fair Labor Association) | Consumer goods | Social |
| | FWF (Fair Wear Foundation) | Clothing | Social |
| | GOTS (Global Organic Textile Standard) | Textiles, hygiene products (organic) | Social, environmental |
| | WRAP (Worldwide Responsible Accredited Production) | Textiles, shoes | Social |
| | IMO Fair for Life | All product groups | Social, economic |
| | FSC (Forest Stewardship Council) | Wood products and timber | Environmental, limited social part |
| | ICTI CARE | Toys | Social |
| | PEFC (Programme for the Endorsement of Forest Certification) | Wood products and timber | Environmental, limited social part |
| | ICA Social Audit* | Consumer goods | Social |
* UTZ has merged with Rainforest Alliance. New RFA audit standard published in June 2020. Transition period until 2021-2022.
**Conditional approval. A maximum of two IGS audits are approved after which the supplier must adopt amfori BSCI audit or some other approved audit conducted by an independent party.


Purchasing chain of clothes and shoes made transparent
Kesko publishes a list of the factories manufacturing Kesko's own brand clothes, shoes and bags on its website. To improve the transparency of the supply chain, the list includes the name and the address of each factory.
Products manufactured by the companies are sold at the K-Citymarket and the Kookenkä stores. The own brand of K-Citymarket chain is mywear. The own brand of Kookenkä chain is Andiamo.
All of the own brand clothes, accessories, shoes and bags of Kesko's chains have markings of origin (country of manufacture).
The lists of factories are updated once a year; the next update will be in autumn 2020. The lists were last updated on 26 August 2020 and on 31 December 2019.
The list of factories, K-Citymarket, updated on 26 August 2020
The list of factories, Kenkäkesko (shoes), updated on 31 December 2019
Read more about responsible purchasing in Kesko's Annual Report
Principles and Practice of Socially Responsible Trading guide