Kesko's material corporate responsibility topics are presented in the matrix below, where the vertical axis shows the level of concern for stakeholders and the horizontal axis the current or potential economic, environmental or social impact of Kesko's operations. The level of concern for stakeholders has been assessed as a whole, which is why the stakeholder specific weightings are not reflected in the matrix.
In 2017, the material topics for reporting were defined in compliance with the requirements of the new GRI standards. Based on stakeholder surveys and workshops, the materiality assessment was updated in 2019. The next update will be made in connection of the update of the responsibility programme in 2020.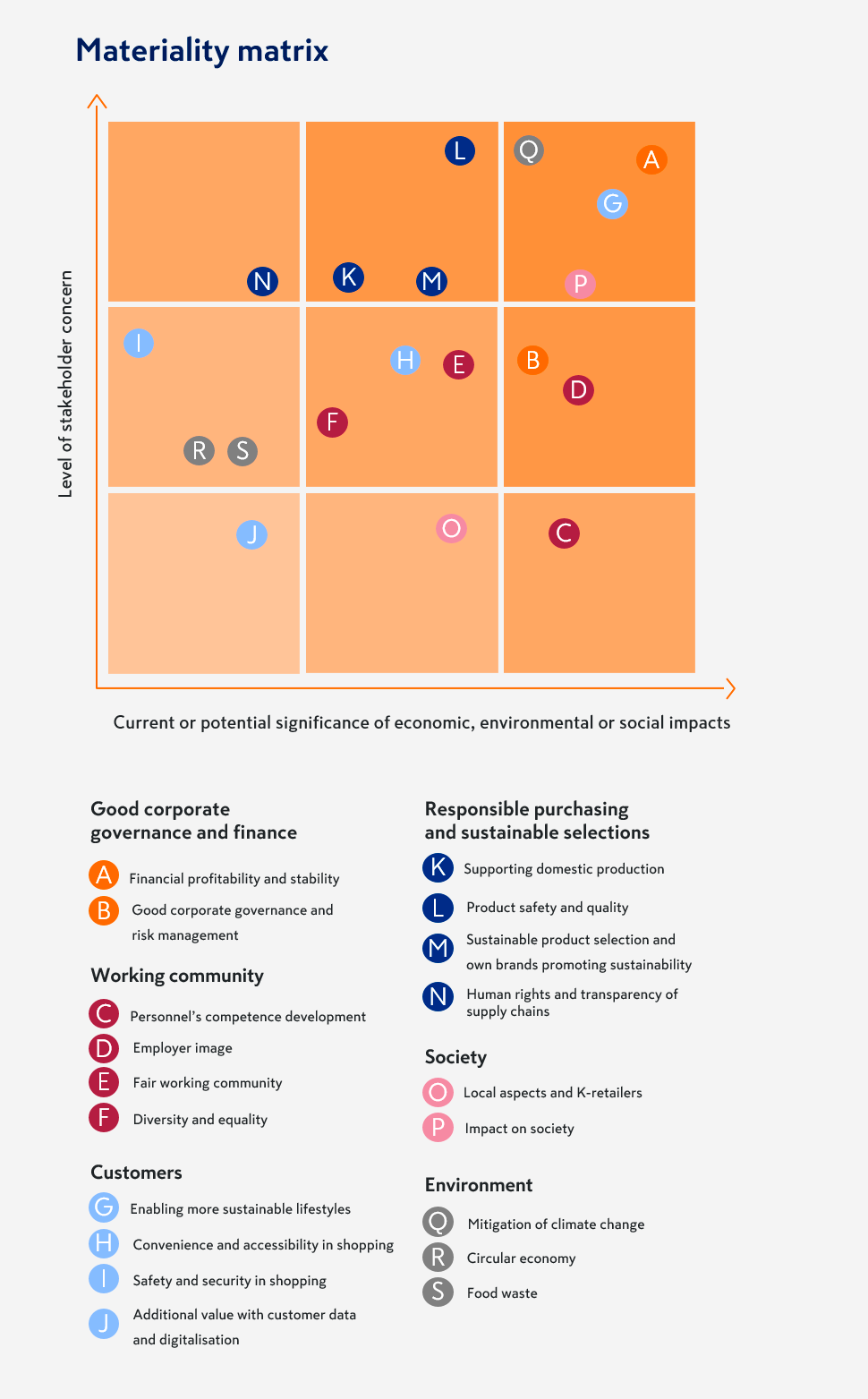 Good corporate governance and finance
Financial profitability and stability
Responsible business and good corporate governance are crucial for achieving good and sustainable financial results. Kesko and K-retailers are significant employers, tax payers and product and service providers. Our strong financial position enables both investments in growth and good dividend capacity.

Good corporate governance and risk management
The K Code of Conduct obliges both the personnel and business partners to act in accordance with the shared principles. We follow proper personal data processing practices and comply with legislation in all our operations everywhere. Our risk management is proactive and an integral part of day-to-day management, and its objective is to support the implementation of Kesko's strategy.
Customers
Enabling more sustainable lifestyles
Our sustainability work focuses increasingly on our customers. We want to enable a sustainable lifestyle for our customers in terms of food, mobility and living.

Convenience and accessibility in shopping
We enable convenient shopping for our customers in our stores and online. Combining online sales and digital services with our extensive store site network, we enable a seamless customer experience in all channels.

Safety and security in shopping
We follow proper personal data processing practices and comply with legislation in all our operations everywhere. We pay special attention to shopping safety and security as well as accessibility of our stores.

Additional value with customer data and digitalisation
Each K-store is tailored to meet local customer demand based on customer data. Using marketing based on customer data, we can offer our customers the best customer experience in the trading sector. Using customer data and AI responsibly, we create data-based services for customers and the society.
Society
Impact on society
The activities of K Group have an impact on the whole society. Kesko and K-retailers are significant employers, tax payers and product and service providers. We sponsor nationwide projects that are connected to the everyday lives of children and young people, promote the quality of living and sustainability. In our multi-year K Fishpaths collaboration with WWF Finland, we work to save endangered migratory fish populations.
Local aspects and K-retailers
Over 1,100 K-retailers provide a significant competitive advantage for K Group. The K-retailers build their selections and services based on customer needs and customer expectations. K-retailers are part of their local community and contribute to their communities in various ways.
Working community
Personnel's competence development
The foundation of our operations is our professional and committed personnel. As the operating environment and the customers' needs change, continuous development of the personnel's skills will play an increasingly important role.

Employer image
We aim to be the most attractive employer in the trading sector. We provide our personnel with diverse career and development opportunities in various positions. By operating as one unified K Group, we can constantly exceed the expectations of our customers at our stores, online and as a B2B partner.

Fair working community
Common values, principles and operating practices form the basis for our work in all operating countries. The prerequisite for wellbeing and success at work is that each employee knows the targets set for their work, receives feedback on their performance and experiences success at work.

Diversity and equality
Equal opportunities, justice, non-discrimination and equality are important principles that are observed at K Group. We promote gender equality throughout our supply chain.
Responsible purchasing and sustainable selections
Supporting domestic production
We are actively increasing the amount of local purchases and encourage K-retailers to include products from local producers in their selections. We support domestic products, for example, through our 'Thank the Producer' products and by organizing Local Food Dates for K-retailers and local food producers.

Product safety and quality
Our products are verified, safe and responsibly produced. The Product Research Unit's laboratory monitors the product safety and quality of the own brand products and own imports in the grocery trade.

Sustainable product selection and own brands promoting sustainability
We offer an extensive selection of own brand products with responsibility labelling. Our customers can be confident that whenever they shop in a K Group store, they are making a responsible choice.

Human rights and transparency of supply chains
We promote the implementation of human rights in all our operations and our supply chains. We monitor and develop responsibility in supply chains with suppliers' factory audits and responsibility trainings.
Environment
Mitigation of climate change
We are committed to international climate summit goals regarding the mitigation of global warming. We have set ambitious emission targets for our operations and supply chain. We will reduce emissions through the use of renewable energy, energy-efficiency at the stores, and efficient logistics.
Circular economy
We provide our customers with diversified recycling services for waste and discarded items and develop innovative circular economy solutions in co-operation with other operators. In our plastics policy, we set tighter targets for recycling and for reducing and avoiding the use of plastics.

Food waste
We reduce food waste through co-operation throughout the whole food chain, from primary production to the end user. Our primary means of reducing food waste is selection management. Some 90% of K-food stores donate edible food products to local charities. Biogas produced from inedible organic waste is utilised as energy in the production of new products.