On this page:
Economic responsibility - targets and achievements
Social responsibility - targets and achievements
Environmental responsibility - targets and achievements
Economic responsibility - targets and achievements
Upload pdf: Economic responsibility targets and achievements, Kesko's Annual Report, pages 10-21
Society
Kesko's operations generate economic benefits for shareholders, personnel, retailers, suppliers and service providers and their employees, customers, as well as municipalities and states.
Kesko is a significant taxpayer
Kesko operates in eight countries, and engages in both retail and wholesale operations. Our principle is that taxes on operating income and assets are always paid to the respective operating country in compliance with local laws and regulations.
In addition to paying income and real estate taxes, Kesko collects, reports and remits indirect taxes, such as value added taxes and excise duties.

K Code of Conduct
The K Code of Conduct is published in the languages of all our operating countries. The entire personnel is obligated to annually commit to compliance with the K Code of Conduct. In 2018, 79% of personnel signed the annual confirmation.
Social responsibility - targets and achievements
Upload pdf: Social responsibility targets and achievements, Kesko's Annual Report, pages 22-41
Working community
The foundation of our operations is our professional and committed personnel. We provide them with diverse career and development opportunities in various positions.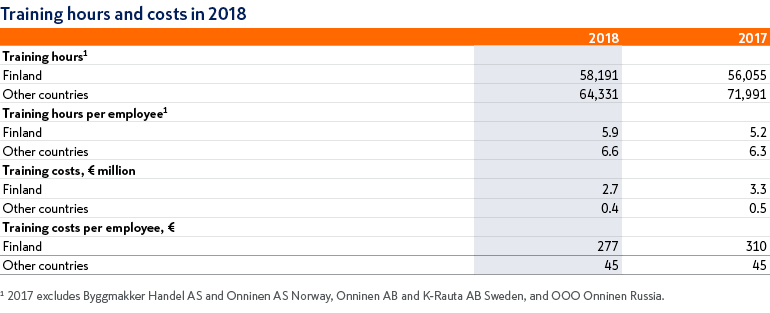 Occupational wellbeing and working capacity
The targets of increasing wellbeing at work include increasing staff commitment, promoting health, increasing the retirement age and enhancing the employer image, thereby raising labour productivity.



Responsible purchasing
Our aim is that the social responsibility of the production of own direct imports from high-risk countries has been assured. At the beginning of 2019, Kesko's suppliers in high-risk countries had a total of 585 valid social responsibility audits. Direct purchases from suppliers in high-risk countries account for some 1.2% of Kesko's total purchases.
Product safety and sustainable selections
The product safety of the K Group's selections has been verified. In 2018, the Product Research laboratory and test kitchen analysed a total of 7,678 product samples. 522 suppliers of Kesko's own brands of food products have international audit certifications that assure product safety.
We offer an extensive selection of own brand products with responsibility labelling.
Grocery trade's Pirkka range includes:
• 286 Hyvää Suomesta - Produce of Finland products
• 153 Key Flag symbol products
• 123 Organic products
• 111 Seed leaf label products
• 86 Nordic Swan label products
• 23 Fairtrade products
• 48 UTZ-certified products
• 40 MSC-certified fish products
• 4 ASC-certified fish products
• 5 Finnish Allergy label products
• 3 EU Ecolabel products
Environmental responsibility - targets and achievements
Upload pdf: Environmental responsibility targets and achievements, Kesko's Annual Report, pages 42-55
Renewable energy
All electricity purchased by Kesko for use in K-stores and other Kesko properties has been produced with renewable energy since the beginning of 2017. In 2018, we purchased 580 GWh of renewable electricity based on hydropower and bioenergy with Renewable Energy Guarantees of Origin (REGOs) from the Nordic countries.
Solar power

We will increase the production of solar power for our own use. At the end of 2018, 27 solar power plants had been installed on the rooftops of commercial properties managed by Kesko. A total of 4.1 GWh of electricity was produced with solar power for own use in K-food stores. At the end of 2018, the annual electricity production capacity of our solar power plants was approximately 8 GWh.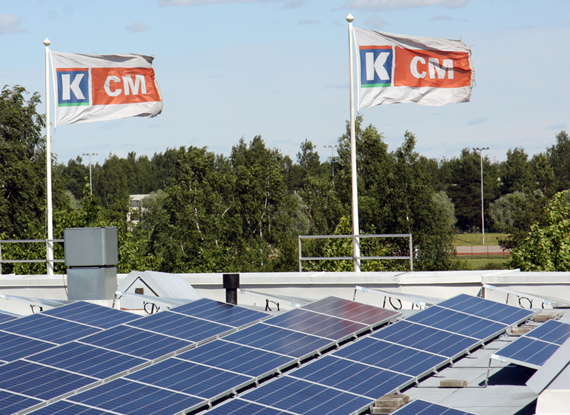 Energy efficiency

We participate in the 2017–2025 action plan of the commerce sector Energy Efficiency Agreement. In accordance with the agreement, we commit ourselves to making energy saving measures with the amount equivalent to 7.5% of 2015 energy consumption amount. All K Group store chains in Finland are included in the agreement. Up to this point, installed solar energy and the reported actions will allow annual energy savings of 28.7 GWh, which is 36% of the target for 2025. Calculation includes electricity, heating,fuels and district cooling.
Emissions

Our aim is to reduce the emissions of Kesko Logistics relative to the net sales index by 10% by 2020 from the 2011 level. We will reduce emissions by the efficient route planning of transport, efficient reverse logistics, two-tier trailers and training in economical driving styles. In 2018, the relative emissions decreased by 16.8% from the level of 2011 base year. The relative emissions decreased by 0.7% compared to 2017.
Food waste
Our objective is to reduce K Group's identified food waste by 13% from the 2016 level by 2021. We reduce food waste in K-food stores with the help of electronic forecasting and order systems, efficient logistics, employee training, reducing the prices of products approaching their best before dates and optimising packaging properties. In 2018, food waste decreased by 7.3% from the previous 2013 base level. Compared to 2017, food waste at K-stores decreased by 3%. K-food stores donated 5% more food to charity compared to 2017.